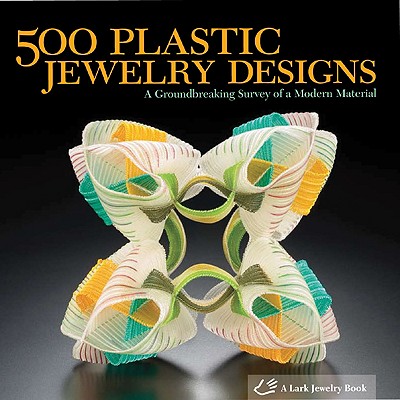 500 Plastic Jewelry Designs
A Groundbreaking Survey of a Modern Material
Paperback

* Individual store prices may vary.
Description
The popular "500" series takes its hippest, most fun approach yet, with an intoxicatingly vibrant and technically diverse collection of contemporary jewelry. Juror Susan Kasson Sloan has put together a groundbreaking survey of the best work being done with this thoroughly modern material.Every page offers some delightful eye candy, with pieces that stretch from the subtle and sublime to the fantastically humorous. There's jewelry that tells a story, and jewelry that cleverly incorporates recycled materialsincluding sunglass lenses and knitting needles. In true 21st century style, much of the work is being designed and produced with cutting-edge CAD CAM technologies.The extremely talented artists include Jantje Fleischhut; Lisa and Scott Cylinder; Adam Paxon; Felieke van der Leest; Ted Noten; Svenja John; Pavel Herynek; Karin Seufert; and Margaux Lange.
Lark Books (NC), 9781600593406, 420pp.
Publication Date: September 1, 2009
About the Author
Juror SUSAN KASSON SLOAN is a self-taught jeweler with a background in fine arts. She began working with epoxy resin in the 1980s, first employing its possibilities as a vehicle for color. Currently a studio artist and educator, she teaches at the 92nd Street Y in New York City and the Art School in Demarest, New Jersey. Susan has also taught at the Haystack Mountain School of Crafts in Maine, The Penland School of Crafts in North Carolina, Pratt Institute in New York, and many other institutions. Her work is exhibited at the Renwick Gallery, Washington, DC; Cooper-Hewitt, National Design Museum, New York; the Victoria & Albert Museum, London; the Samuel Dorsky Museum of Art, New York; and the Gregg Museum of Art & Design, North Carolina.
or
Not Currently Available for Direct Purchase