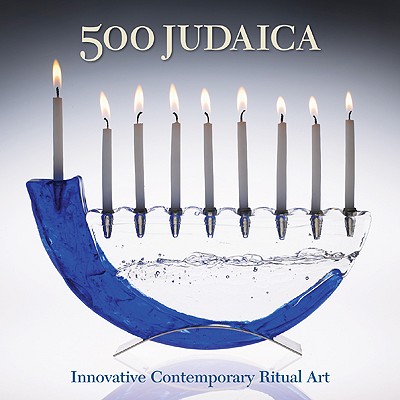 500 Judaica
Innovative Contemporary Ritual Art
Paperback

* Individual store prices may vary.
Description
From mezuzahs to menorahs, these outstanding Jewish ceremonial and ritual objects make a beautiful new addition to the celebrated 500 series. Contemporary in style and lovingly handcrafted, they come from North America, Europe, and Israel, and demonstrate the diversity of Judaism. The artworks include tzedakah boxes, shofars, tallits, Shabbat candlesticks, havdalah sets, Kiddush cups, Torah pointers, kippahs, Seder plates, and dreidels.
Praise For 500 Judaica: Innovative Contemporary Ritual Art…
"A beautiful book." - The Jewish Daily Forward
"Exemplary photographs of 500 contemporary ceremonial art and ritual objects." - Jewish Book World
"Captures a diverse range of exquisite traditional and contemporary Judaica objects from leading artists and craftspeople mostly in the U.S. and Israel, who dedicate their talents in objects made for the home, the synagogue, weddings, holidays, and celebrations." - Jewish in St. Louis
"500 Judaica illustrates [the] concept of beautifying a mitzvah. The book features the work of more than 180 makers of Judaica. Media and disciplines include metalwork, woodwork, ceramics, and needle arts." - Intermountain Jewish News (cover story)
"This thick new volume's point is basically celebratory. It's filled with just what the title says - 500 intriguing items reproduced in sharp, splendid colors." - The Jewish Exponent (Philadelphia)
"Many of the works in Ray Hemachandra's new book 500 Judaica: Innovative Contemporary Ritual Art, which were curated by Daniel Belasco, Henry J. Leir assistant curator at The Jewish Museum in New York, are not the sorts of pieces you would expect to find in a Jewish book store or Judaica shop in Brooklyn. ... Some of the most interesting works in the collection are so fascinating precisely because they are non-functional." - The Jewish Press  "(A) handsomely produced volume … the art speaks for itself. This book will be a welcome addition to Judaica art libraries and contemporary art museum gift shops." - Library Journal
"The art that fills the pages of 500 Judaica is not only eye-catching, it is rooted in ongoing meaning and faith" - AmericanStyle
 "This volume is stunning, and will be of interest to those of - or interested in - the Jewish faith and traditions, but also artists and anyone who appreciates meaningful art." - Handmade Spark
"500 Judaica is an exceptional book for the variety of pieces shown and for its quality and value. Immerse yourself in the beauty of this book from the whimsical assemblage of found items in Liz Mamorsky's works to the machine precision and polish of Abrasha's work. No matter your choice of medium, you'll find examples here to inspire - beading, fiber, wood, ceramic, glass, and metal. This book is both enlightening and filled with beauty, much like the pieces shown within it." - Craft Gossip
"This beautiful softcover book features a diverse collection of handmade Jewish ritual art pieces which reflect a wide range of materials, object types, and techniques. If you are interested in contemporary Judaica, this book is a must-have!" - The Lone Beader
"Magnificent … exquisitely photographed, supremely enthralling … worthwhile to purchase as a gift, to mark an occasion, or for the collector of wonderful art books. As a chronicle of faith, shown through contemporary Judaic art form, it manages to be specific to the religion it is addressing, and as well also to the profound passion that all religion engenders in humanity. The photos are incredibly varied and each one is completely worthy to be showcased in this amazing book. I am honored to have this remarkable volume in my library. " - Jean Yates

Lark Books, 9781600594625, 420pp.
Publication Date: September 1, 2010
or
Not Currently Available for Direct Purchase