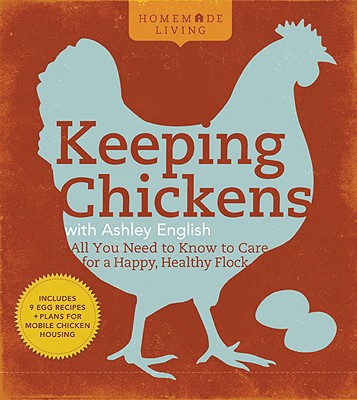 Homemade Living
Keeping Chickens with Ashley English: All You Need to Know to Care for a Happy, Healthy Flock
Hardcover

* Individual store prices may vary.
Description
Have you heard the news: chickens have left the farm and made themselves at home in neighborhoods everywhere For anyone ready to put their eggs in this basket, here is the perfect beginner's guide to raising chickens, with information on choosing a breed, acquiring the chicks, and housing, feeding, and caring for them. Plus, it provides the lowdown on eggs, including "egg"celent recipes, and profiles of people who have taken on the chicken-rearing challenge. Includes two projects with exploded woodworking illustrations and photos: a simple nesting box and a wildly creative mobile chicken tractor.
Praise For Homemade Living: Keeping Chickens with Ashley English: All You Need to Know to Care for a Happy, Healthy Flock…
"Urban chicken keepers are flocking to this comprehensive (and pretty!) guide by Ashley English, a popular blogger and proponent of sustainable living. Chapters in Keeping Chickens with Ashley English cover everything from selecting the perfect breed for your space and geography to cooking with eggs...It even includes plans to build a mobile coop." – Better Homes & Gardens "An excellent, straightforward how-to book for those who wish to have a solid understanding of what it takes to raise chickens successfully for egg production." – Library Journal "Addresses all the really important things you need to know to get started with poultry...If you are just starting out and you want to select the right breed, Keeping Chickens provides plenty of information to help you make the right choice. There's a plan for a chicken tractor, plans for nesting boxes, and photos of Ashley's coop along with some others. Feed is explained, broodiness in chickens, and poultry health." – Homestead Revival "Ashley English is the how-to voice of a new DIY movement." - Erik Knutzen and Kelly Coyne, founders of Homegrown Evolution and authors of The Urban Homestead "An approach to urban homesteading that inspires both action and admiration." – Grace Bonney, founder of Design*Sponge "The Homemade Living series is beautiful, in both aesthetics and intention. A friendly introduction to simpler living that people in barns and brownstones alike can appreciate." – Jenna Woginrich, author of Made from Scratch and blogger for Mother Earth News and The Huffington Post "Beautifully designed and laid out with lush, full-color photographs and illustrations. Ashley knows her stuff and you will too after reading her books." - Mother Nature Network "What I love most about this series is how Ashley presents all of these could-be-complicated subjects in a way that's achievable and encouraging. It all feels totally doable...not to mention fun and fresh in the way she shares it all." - Amanda Soule, Author of The Creative Family and Handmade Home, Founder of the popular blog Soule Mama "Perfect for the aspiring urban farmer on your list!...Tons of gorgeous photos, troubleshooting tips, and recipes makes these books a must have addition to any gardener's bookshelf." -Re-Nest
Lark Books (NC), 9781600594908, 135pp.
Publication Date: April 6, 2010
or
Not Currently Available for Direct Purchase