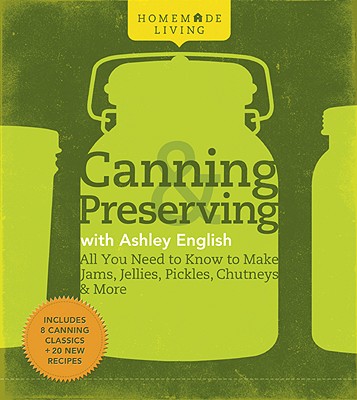 Homemade Living (Hardcover)
Canning & Preserving with Ashley English: All You Need to Know to Make Jams, Jellies, Pickles, Chutneys & More
Lark Books (NC), 9781600594915, 135pp.
Publication Date: April 6, 2010
* Individual store prices may vary.
Description
Yes, you CAN More and more people have discovered what grandma always knew: canning and preserving supplies you with wholesome, tasty treats year round. And this Homemade Living guide provides all the practical, hold-your-hand basics along with plenty of step-by-step photos. Learn about the necessary tools of the trade, crucial safety tips, and hot water bath processing and pressure canning. Discover the all-important science of salt and sugar, and how to select the best possible ingredients, favoring seasonal, organic, and local options. Three topic-specific primers cover pickles, relishes and chutneys; jams, jellies, butters and curds; and whole fruits and veggies--and each offers at least two "Canning Classic" recipes with variation ideas.
About the Author
Ashley English has earned degrees in both holistic nutrition and sociology. She is a member of Slow Food USA and has worked over the years with a number of non-profit organizations committed to social and agricultural issues. She has a popular clip on YouTube (http: //tiny.cc/FvOH1), with more to be added soon; is a regular contributor to the popular blog Design*Sponge (with 70,000 regular readers); and maintains her own blog at http: //small-measure.blogspot.com. Ashley and her husband currently reside in Candler, NC with their menagerie of chickens, dogs, cats, and bees, where they are converting their land into a thriving homestead.
Praise For Homemade Living: Canning & Preserving with Ashley English: All You Need to Know to Make Jams, Jellies, Pickles, Chutneys & More…
"A comprehensive and indispensible guide for preserving and enjoying the bounty of your local harvest. In it you will find the tools and inspiration needed to can with confidence and ease." – Terry Walters, author of CLEAN FOOD "Accessible, thorough, and visually pleasing, this is a useful primer for beginners and a helpful brief reference for the more experienced. Highly recommended." - Library Journal "Ashley English is the how-to voice of a new DIY movement." - Erik Knutzen and Kelly Coyne, founders of Homegrown Evolution and authors of The Urban Homestead "An approach to urban homesteading that inspires both action and admiration." – Grace Bonney, founder of Design*Sponge "The Homemade Living series is beautiful, in both aesthetics and intention. A friendly introduction to simpler living that people in barns and brownstones alike can appreciate." – Jenna Woginrich, author of Made from Scratch and blogger for Mother Earth News and The Huffington Post "Beautifully designed and laid out with lush, full-color photographs and illustrations. Ashley knows her stuff and you will too after reading her books." - Mother Nature Network "Perfect for the aspiring urban farmer on your list!...Tons of gorgeous photos, troubleshooting tips, and recipes makes these books a must have addition to any gardener's bookshelf." -Re-Nest "What I love most about this series is how Ashley presents all of these could-be-complicated subjects in a way that's achievable and encouraging. It all feels totally doable...not to mention fun and fresh in the way she shares it all." - Amanda Soule, Author of The Creative Family and Handmade Home, Found of the popular blog Soule Mama
"Ashley English is one of the hardest working women in the homemade movement that I know." - Food in Jars
or
Not Currently Available for Direct Purchase