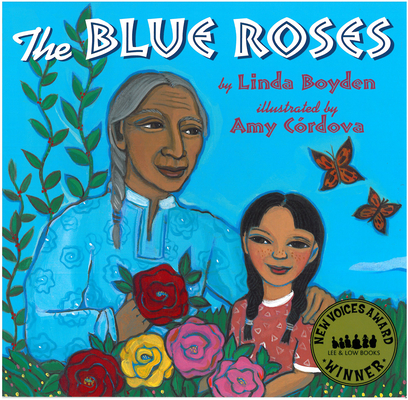 The Blue Roses (Paperback)
Lee & Low Books, 9781600606557, 32pp.
Publication Date: April 1, 2002
Other Editions of This Title:
Hardcover (4/1/2002)
* Individual store prices may vary.
Description
Every spring Rosalie and her grandfather (Papa) sow tiny seeds that blossom into bright vistas of flowers and vegetables. A red rosebush that is planted under Rosalie's bedroom window when she is born, is later joined by pink and yellow ones "to make a sunset." When Rosalie asks for a blue bush to represent the sky, Papa explains that roses do not come in blue. The winter after Papa dies, Rosalie's blue roses come to her in a dream, symbolizing love, memory, and transcendence.
With gentle words and magical images, this contemporary Native American story tenderly embraces the natural cycle of life. Winner of LEE & LOW's first New Voices Award, The Blue Roses is sure to touch all who read it.
Praise For The Blue Roses…
"Boyden's prose is filled with color and imagery and impasto acrylics give a wonderful hieratic quality to the pictures. The small house, the well-loved garden, the profusion of roses, and Native American Rosalie and her family are formed of strong geometric shapes and richly colored patterns. A gentle story of family ties, loss and dreams."

—Kirkus Reviews


"Youngsters who have lost a loved one or who share a special relationship with an older adult will relate to this touching story, which clearly shows what healthy grieving is like."

—Booklist