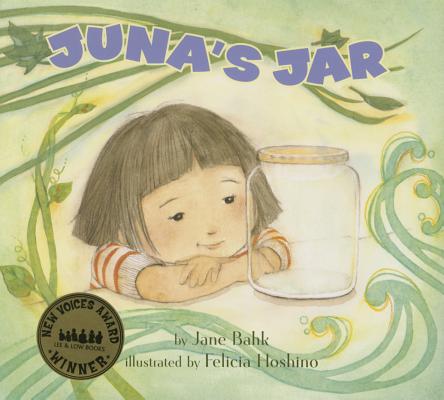 Juna's Jar
Hardcover

* Individual store prices may vary.
Other Editions of This Title:
Paperback (9/4/2018)
Description
Sometimes a simple, everyday object can take you away on great adventures. Juna and her best friend, Hector, have many adventures together, and they love to collect things in empty kimchi jars. Then one day, Hector unexpectedly moves away without having a chance to say good-bye. Juna is heartbroken and left to wonder who will on go on adventures with her. Determined to find Hector, Juna turns to her special kimchi jar for help each night. She plunges into the depths of the ocean, swings on vines through the jungle, and flies through the night sky in search of her friend. What Juna finds is that adventure--and new friends--can be found in the most unexpected places. Coupled with dreamy watercolor illustrations by Felicia Hoshino, Juna's Jar is a heart-warming and whimsical tale about the power of the imagination.
Praise For Juna's Jar…
Winner of Lee & Low's 2014 New Voices Award, Juna's Jar is a heartwarming and whimsical celebration of friendship and the power of imagination.

A girl named Juna gets significant mileage in more ways than one out of an empty jar of kimchi in Bahk's debut, which won the publisher's New Voices Award. Juna is distraught after her friend Hector moves away suddenly; to cheer her up, her brother gets her a small fish, which she keeps in her jar. At night, "when everyone else was asleep, " Juna joins the fish on an imaginary underwater journey, and in the morning, "Juna's fish had grown so big its mouth nearly touched its tail." This surprising development sets the state for subsequent "was it really just a dream?" adventures, which eventually let Juna make peace with Hector's absence. Hoshino (Sora and the Cloud) contributes warm watercolors, dominated by pale yellows and greens, that bring Juna's nighttime sojourns to full life in the final one, she dons aviator goggles and flies over a bustling city on the back of a cricket. Despite the elements of magical realism interwoven with the plot, Bahk never loses sight of the very real emotions that drive her pensive, curious, and openhearted heroine. Ages 5 9. (Jan.) Copyright 2014 Publishers Weekly Used with permission.

A seemingly ordinary kimchi jar is anything but in this gentle tale of old friends and new. Best friends Juna and Hector collect rocks and bugs in her family's empty kimchi jars. One day, Juna goes to Hector's apartment only to learn from his abuela that his parents came and took him to live with them far away. To cheer her up, Juna's brother buys her a fish to place in the empty kimchi jar. That night, she dreams of questing underwater for Hector, only to awaken to find her pet has, remarkably, grown too big for its home. She turns the now-empty jar into a terrarium with a small bean plant, and that night she imagines she is looking for Hector through a rain forest. This pattern is repeated again with a cricket, and then finally Juna is able to come to terms with Hector's absence and is emotionally ready to make another friend. The steady narrative repetition as Juna sleeps and seeks offers a reassuring pattern for children who might be missing their own Hectors. The logic (or magic) behind the jar's occupants' phenomenal growth is unclear, and Juna's brother never remarks on its impossibility; less-credulous readers will wonder about this. Meanwhile, the muted tones of Hoshino's watercolors soothe and, on occasion, amuse, as when readers witness the slightly smooshed lips of Juna enduring a hug she did not seek. While a little logically shaky, this fills a need for those children who find themselves adrift when their closest friends seemingly disappear. (Picture book. 4-7) COPYRIGHT(2014) Kirkus Reviews, ALL RIGHTS RESERVED.
Lee & Low Books, 9781600608537, 32pp.
Publication Date: January 15, 2015
or
Not Currently Available for Direct Purchase