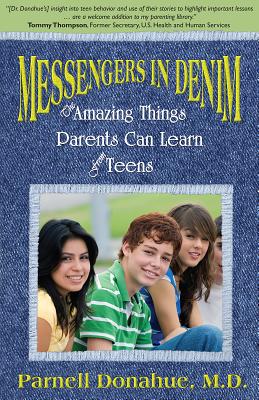 Messengers in Denim: The Lessons Parents Can Learn from Teens (Paperback)
The Lessons Parents Can Learn from Teens
Mapletree Publishing Company, 9781600651069, 445pp.
Publication Date: September 1, 2010
* Individual store prices may vary.
or
Not Currently Available for Direct Purchase
Description
Forty years of pediatric experience have taught Dr. Parnell Donahue that the unique perspective of teens is an invaluable resource for parents who want their children to become men and women of character. His often frank discussions with teenagers cover topics familiar to parents - drugs, sex, suicide, medical care, financial responsibility, self-image, religion, even the importance of being nice - but with the added benefit of revealing how teens feel about these and other subjects, and what teens perceive their parents feel about those same issues. Each teen's true story reminds us that, despite appearances, our children carefully watch everything we as parents say and do - and they usually follow our lead. Dr. Donahue further reminds us that children want parents to teach good behavior at all times, but use words only when necessary. He complements his discussions with medical insight that helps parents fully comprehend the issues facing their teens. The result is a poignant and ofttimes humorous discussion that challenges and usually changes parents' perceptions of modern teenagers.
Advertisement