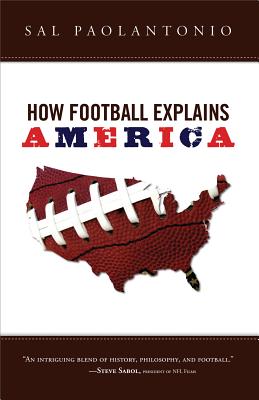 How Football Explains America (Hardcover)
Triumph Books (IL), 9781600780462, 211pp.
Publication Date: September 1, 2008
* Individual store prices may vary.
or
Not Currently Available for Direct Purchase
Description
Using some of the most prominent voices in pro sports and cultural and media criticism, How Football Explains America is a fascinating, first-of-its-kind journey through the making of America's most complex, intriguing, and popular game. ESPN's Sal Paolantonio's explores just how crucial football is to understanding the American psyche. Interspersed with memorable images from the climax of Super Bowl XLII, Paolantonio tackles varying American themes from Manifest Destiny to fourth and one as he goes deep in order to answer the age-old question Why does America love football so much? An unabashedly celebratory explanation of America's love affair with the game and the men who make it possible, this work sheds light on topics such as how the pioneers and cowboys helped create a game that resembled their march across the continent, why rugby and soccer don't excite the American male like football does, how rule changes are continually made to enhance the dramatic action and create a better narrative, the eternal appeal of the heroic quarterback position, the military lineage from General Douglas MacArthur to the New York Jets head coach Eric Mangini, and how the burgeoning medium of television identified and exploited the NFL's great characters. It is a must read for anyone interested in more fully understanding not only the game but also the nation in which it thrives.
About the Author
Sal Paolantonio is a national correspondent for ESPN, covering the NFL for SportsCenter, Sunday NFL Countdown, and ESPN.com. He also hosts ESPN's State Farm NFL Matchup on Sunday mornings. He is a former sportswriter and political correspondent for the Philadelphia Inquirer and served as an officer in the U.S. Navy. He lives with his family in Moorestown, New Jersey.
Advertisement