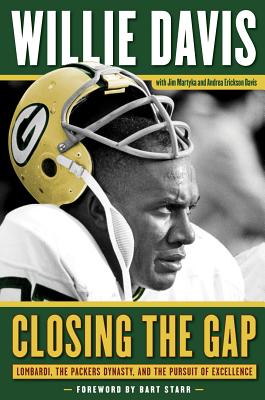 Closing the Gap
Lombardi, the Packers Dynasty, and the Pursuit of Excellence
Hardcover

* Individual store prices may vary.
Description
Describing how NFL great Willie Davis helped define the hard-nosed, in-your-face defense of the original football dynasty, the 1960s Green Bay Packers, this revealing autobiography also illustrates his persona off the field—humble yet ambitious, with an infectious smile and a reputation of strict discipline that matched his leadership mentality. The book recounts the competitor as one of the game's strongest, quickest, and most agile defensive linemen in his time, showcasing a team captain who led the Green and Gold to five championships and earned a bust in the Pro Football Hall of Fame. Distinguished from many other athletes of his generation, Davis's success continued well after he took off his pads. His reputation as one of the most respected businessmen in America is discussed, including his time serving on the board of directors for Fortune 500 companies, taking part in various foundations, and speaking to audiences of all ages about his experiences. From growing up in a poor, segregated small town in the South to the intense pressure he endured as a college athlete contemplating his future, this evocation pays homage to a man who has worked hard to achieve all that he has, always appreciating the fruits of his labors with care, respect, and devout passion.
Triumph Books, 9781600787263, 416pp.
Publication Date: September 26, 2012
About the Author
Willie Davis is a businessman and a former NFL football star who played with the Cleveland Browns and Green Bay Packers. He was ranked by the Sporting News as one of the top 100 greatest football players. He lives in Los Angeles. Jim Martyka is a professional freelance writer, a ghostwriter, and an editor. He lives in Los Angeles. Andrea Erickson Davis is a professional freelance writer, editor, artist, and community activist based in Southern California. Bart Starr is a Pro Football Hall of Fame quarterback who led the Green Bay Packers to five championships in the 1960s under head coach Vince Lombardi. He lives in Birmingham, Alabama.
or
Not Currently Available for Direct Purchase