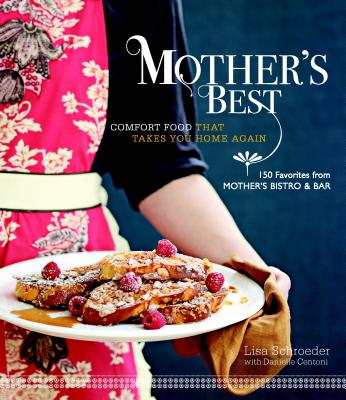 Mother's Best: Comfort Food That Takes You Home Again; 150 Favorites from Mother's Bistro & Bar (Hardcover)
Comfort Food That Takes You Home Again; 150 Favorites from Mother's Bistro & Bar
Taunton Press, 9781600850172, 394pp.
Publication Date: November 1, 2009
Description
There's nothing like a home-cooked meal made with love.
And here's your chance to share the love with Mother's Best -- 150 delicious recipes for comfort food that will soothe the soul and satisfy even the most ravenous appetite. All you have to do is follow the directions and sprinkle in a little TLC.
If you find yourself yearning for the uncomplicated, uncommonly tasty meals your mom used to serve up -- straight from the oven -- this luscious collection of recipes will help you revisit a simpler time. And treat your family to the hearty, wholesome flavors of a meal they won't forget.
Inspired by the success of her popular restaurant, Mother's Bistro & Bar in Portland, Oregon, author Lisa Schroeder gives you 150 irresistible recipes -- from appetizers, soups and salads to main courses, sides, breakfast, sandwiches, desserts and baked goods.
As you flip through this exceptional book, the amazing variety of ethnic influences will delight you. That's because the author invited mothers here and abroad -- France, Spain, India, Hungary, Greece Ireland and Italy -- to add their best dishes to the collection.
Here are just a few of the reasons why Mother's Best will become one of your all-time favorite cookbooks.
150 delicious recipes from a wide range of cultures and countries
A great way rediscover the forgotten art of the family meal
The author is a world famous connoisseur of comfort food
An excellent gift for moms, daughters and anyone who loves to cook
60 mouth-watering, full-color photographs
Bursting with delicious insights -- for the kitchen and well beyond -- this heartwarming book captures the distinctive flavors that can transform dinner into something special every night.
About the Author
Lisa Schroeder is the chef/owner of Mother's Bistro & Bar and Mama Mia Trattoria in Portland, Oregon. Schroeder's award-winning restaurants have been featured in The Oregonian, Food & Wine, Cooking Light, Town & Country, USA Today, and Bon Appetit. She makes her home in Portland, Oregon.
Praise For Mother's Best: Comfort Food That Takes You Home Again; 150 Favorites from Mother's Bistro & Bar…
 "Beautifully and warmly photographed, this cookbook is about real, delicious, home-cooked food." --Alice Waters, Chez Panisse
"Anyone who's waited in line for a table at Mother's Bistro & Bar on Southwest Stark for Sunday brunch should pounce on this book. It reveals many of the restaurant's most popular dishes, plus some from Mama Mia Trattoria, Schroeder's other eatery right next door, as well as recipes from moms whose cooking has been featured at Mother's through the years. Don't assume that all this maternal instinct spells stodgy food: Inside this book a smart, trained chef is at work." --The Oregonian
Advertisement