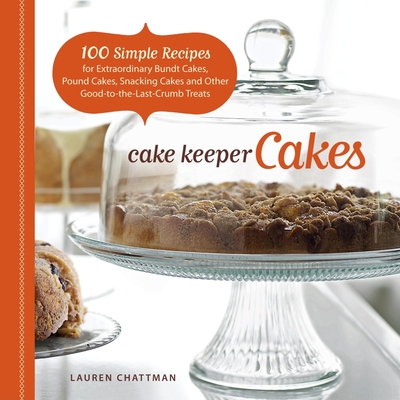 Cake Keeper Cakes (Paperback)
100 Simple Recipes for Extraordinary Bundt Cakes, Pound Cakes, Snacking Cakes, and Other Good-To-The-Last-Crumb Treats
Taunton Press, 9781600851209, 176pp.
Publication Date: October 27, 2009
Description
Few things are as satisfying as a sweet snack that's mouthwateringly moist. So skip the cookie jar and head for the cake keeper. In Cake Keeper Cakes, Lauren Chattman, the author of Dessert Express, presents simple and delicious recipes that stand up to everyday eating. Made from only the most wholesome ingredients, Lauren's heavenly creations include Espresso-Hazelnut Bundt Cake, Banana and Bittersweet Chocolate Cake, Citrus Pound Cake, Raspberry Yellow Cake Squares, and Mississippi Mud Cake. Designed with the busy baker in mind, this intoxicating cookbook shows how to make long-lasting cakes like mom used to, in a lot less time.
Praise For Cake Keeper Cakes: 100 Simple Recipes for Extraordinary Bundt Cakes, Pound Cakes, Snacking Cakes, and Other Good-To-The-Last-Crumb Treats…
"The former pastry chef Lauren Chattman's new book sets out to prove that baking a cake can be an everyday activity. In the spirit of industrious folks like Julie Powell, who spent a year cooking her way through Julia Child's Mastering the Art of French Cooking (the experience spawned a book and a movie), Chattman baked a different cake every day for almost a year; the resulting 100 unfrosted and unfilled cakes range from old favorites like the crunchy-topped blueberry buckle to an Italian-style red grape, polenta, and olive oil cake."  --Saveur   "Cake Keeper Cakes offers 100 recipes for honest-to-goodness everyday cakes, the kind meant to be kept on the counter under a plain glass dome. Author Lauren Chattman's recipe for Cinnamon Pudding Cake and Almond Brown Butter Cake conjure winter days and warm milk. Pear Cake with Sea Salt Caramel Sauce appears dinner-party worthy without being fussy. Meanwhile, cakes like Fig and Cornmeal with Pine Nuts or Chocolate Chipotle — a rich buttermilk loaf with a subtle, smoky kick — strike just the right balance between comfort and sophistication. Make no mistake: these are not quick cakes. They are simply simple cakes, no frosting, no flower cut-outs, no intimidation." --Michele Kaya, The Associated Press
 
Advertisement