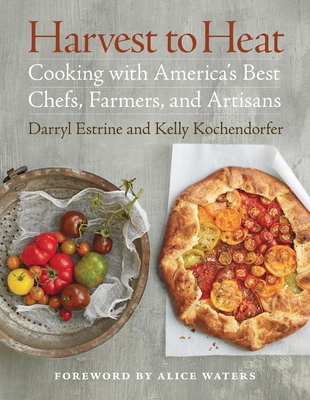 Harvest to Heat (Hardcover)
Cooking with America's Best Chefs, Farmers, and Artisans
Taunton Press, 9781600852541, 295pp.
Publication Date: October 12, 2010
Description
Now more than ever, Americans are giving careful thought to where their food comes from. And farmers, formerly anonymous suppliers of bounty, are proving an inspiration to chefs everywhere. This book celebrates the collaboration between farmer and chef - and the journey from land to table. Readers are invited along to visit the men and women who grow, herd, ranch, and create artisanal foods that supply the finest restaurant chefs in the country.
Harvest to Heat explores this dynamic relationship and paints beautiful portraits of these often unheralded people, even while it offers up a bounty of never before published, easy to cook recipes - 100 in all. It will encourage readers to think fresh first and buy food locally, as well as motivate them to cook with the confidence of a four-star chef.
About the Author
The work of photographer Darryl Estrine has appeared in a variety of national magazines over the last 25 years. He adds writer to his credits with "Harvest to Heat." He lives in the Hudson River Valley with his wife Laura and their daughter Billie. Kelly Kochendorfer was the original test kitchen director for "Saveur" magazine, a contributing editor to the James Beard award-nominated book "Culinaria: USA," and developed and styled recipes for many magazines and books, including "Martha Stewart Living" and "The New York Times T-Living Magazine." Kelly lives in New York.
Praise For Harvest to Heat: Cooking with America's Best Chefs, Farmers, and Artisans…
Chosen as one of the Six Great Finds for Your Kitchen, "Chefs teamed with farmers, fishermen and others to create recipes celebrating the biggest trend in food right now -- high-quality ingredients fresh from the farm." --Parade Magazine
Chosen as one of the Five Top Fall Cookbooks. "More than a cookbook, Harvest to Heat: Cooking with America's Best Chefs, Farmers, and Artisans provides an inside look at the relationships between farmers and chefs. Each recipe pairs one of the nation's top chefs (including Southern culinary stars John Besh, Frank Stitt, and Sean Brock) with a pioneering local farmer or artisan. Mouthwatering recipes, culinary clout, and sublime photography make this cookbook a worthy addition to your library." --Garden & Gun magazine
"One of the most compelling cookbooks of the year... In addition to recipes, Estrine and Kochendorfer include profiles of the featured farmers and artisans so you can get to know them and their stories the way their partner-chefs do.
Harvest to Heat
is also stunning. The food photography is casual and rustic—a bit like a farm dinner. But, I'm hooked on the snapshots from Estrine and Kochendorfer's cross-country farm and restaurant tour, which spotlight the people, places, animals, and ingredients that helped create the book. And, if you're inspired to visit these farms and restaurants (a not unlikely possibility),
Harvest to Heat
includes addresses, phone numbers, and web sites for all of them.
--epicurious.com

 "One of the fall's most beautiful cookbooks."
--Julia Reed, Newsweek
"At all of my restaurants, we strive to shorten the time and distance any ingredient spends from the soil, water, or air to the plate. This notion is exactly what Harvest to Heat celebrates--eating local, artisanal products made from farmers who have been doing what they do--perfectly--their whole lives."
--Mario Batali, Chef/Author
"Harvest to Heat attests to the often-forgotten fact that no matter our styles of cooking, be it rustic Italian or modern French, we are nothing without the producers, artisans, and craftspeople that provide our ingredients through their labors of love."
-- David Chang, Momofuku
"Harvest to Heat is a sumptuous and sensually beautiful book; from soil to stove, it features the very best our great land has to offer. With earthy and delicious recipes, Harvest to Heat is an instant classic for any kitchen library and a book you will grow to love more and more as the years wear on and the meals pile up."
-- Padma Lakshmi, Emmy-nominated host of Top Chef, author, actress, and designer
"Every serious chef understands that great ingredients from dedicated farmers and artisans are the key to great dining. This book celebrates that fact, capping it off with 100 recipes from some of America's leading chefs."
-- Tim Zagat
"Harvest to Heat brings together the artisans of the fields and the kitchen to share the results of their skills and talents, furthering the "farm to table" experience we enjoy when we eat a meal by highlighting the important connection between farmer, chef, and artisan. The stories in Harvest to Heat are a delicious example of how memories are made through food."
-- Cat Cora, celebrity chef, author, and philanthropist
"Anyone who reads Harvest to Heat will be as compelled to cook from it as I am. I will cook from this book knowing that those who contributed are making a delicious, sustainable, and thoughtful community-based food future a tangible reality. I will not talk. I will cook. And then I will shout with joy: we have arrived!"
-- Michel Nischan, Chef/Owner of Dressing Room and President and CEO of the Wholesome Wave Foundation

"Harvest to Heat highlights the collaboration between farmers, chefs, and artisans, making this cookbook unique. It is a fabulous mix of soulful stories, gorgeous photos, and inspiring recipes that bring together all aspects of creating a truly fine meal. Harvest to Heat honors the many aspects of enjoying great food while not ignoring the planet, the animals, or the people that bring us these gifts."
-- Nell Newman, President of Newman's Own Organics
"Harvest to Heat represents a new generation of cookbook, one that celebrates the crucial relationship between chefs, farmers, and artisans, documenting this connection with rich, candid photography and stories from the field and kitchen alike."
-- Alice Waters, Chez Panisse

Advertisement