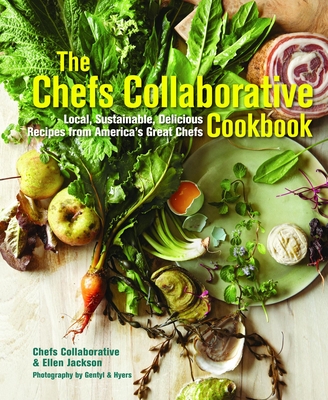 The Chefs Collaborative Cookbook: Local, Sustainable, Delicious Recipes from America's Great Chefs (Hardcover)
Local, Sustainable, Delicious Recipes from America's Great Chefs
Taunton Press, 9781600854187, 298pp.
Publication Date: March 12, 2013
Description
Almost twenty years ago, some of the most revered chefs in the world--including John Ash, Rick Bayless, Susan Feniger, Nobu Matsuhita, Nora Pouillon, Michael Romano, and Alice Waters--looked at the way Americans were eating and decided that they had to help change it. They had watched while processed foods replaced fresh food in our supermarkets. They saw family farms disappear and huge agribusiness corporation take over. They worried about obesity in children and adults and the associated illnesses. And they realized that Americans were losing the joy of cooking and eating fresh food.
In 1993, these visionary chefs founded Chefs Collaborative and vowed to use their influential restaurants to educate the public about a better way to nourish ourselves, a way that would be better for the planet, for our health, and for our communities. The declaration they created at that meeting traveled around the country and was signed by chefs in every state. They stated their goal: Support small farms, healthy food, and sustainable agriculture for everyone. They would do so through research and educational programs, but mostly by cooking delicious food that showed America that eating healthy, sustainable food is not only good for us and the environment--it is also pure pleasure.
Now more than 12,000 strong, the Chefs Collaborative network includes top American chefs who have been a significant force in the food revolution that's improved the way Americans eat.
With over 115 original recipes from over 115 of America's best chefs, The Chefs Collaborative Cookbook celebrates that revolution and translates the tenets of sustainable food production into actual recipes that most any home cook can prepare. The book is divided into four sections that focus on vegetables, fruits, and other edible plants; meat and poultry; fish and seafood; dairy and eggs. Each section features sumptuous recipes and also provides information about the principles of sustainably around those "main" ingredients, with information provided by, farmers, artisan producers, breeders, environmentalists, and activists. The visually rich package contains over 50 finished dish photos.
About the Author
Chefs Collaborative is the leading nonprofit network of chefs that fosters a sustainable food system through advocacy, education, and collaboration with the broader food community. The organization publicly advocates for sustainable food in the greater culinary community, provides chefs with the information and tools necessary to make sustainable purchasing decisions, and connects chefs and sustainable food producers. Chefs Collaborative works with chefs and the greater food community to celebrate local foods and foster a more sustainable food supply. Through these actions, the members embrace seasonality, preserve diversity and traditional practices, and support local economies.Ellen Jackson graduated from the New England Culinary Institute and spent 12 years as a pastry chef in some of the best kitchens in Portland, Oregon. After her stint in restaurants, Ellen focused her love of food on writing about it. She is the coauthor of The Grand Central Baking Book, and developed recipes for The Paley's Place Cookbook and Weber's Way to Grill. In addition, Ellen is a longtime Slow Food steering committee member and a Portland Farmers Market board member.
Advertisement