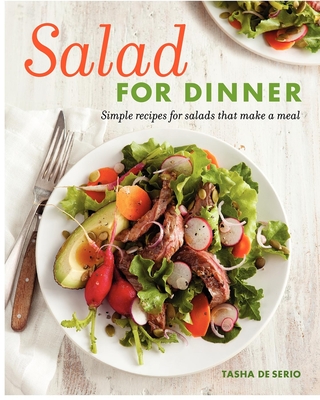 Salad for Dinner: Simple Recipes for Salads That Make a Meal (Paperback)
Simple Recipes for Salads That Make a Meal
Taunton Press, 9781600854316, 202pp.
Publication Date: March 13, 2012
Description
Salad for lunch? Salad for dinner? It's easy - and delicious - to turn salads into main meals with this original collection from chef Tasha DeSerio. As more and more home cooks are looking to eat healthy using local and regional offerings, the whole-meal salads highlighted here will satisfy vegetarians and meat-eaters alike. Simple, yet sophisticated and showcasing the author's talent for presenting beautiful ingredients in an artful way, the Salad for Dinner recipes encompass everything from greens to meat and fish, dairy, and pasta and grain. With detailed information on in-season fruits and vegetables, lesser-known salad fixings, preparation techniques (including make ahead tips), and a comprehensive chapter on salad basics, readers will have all they need to turn out satisfying and beautiful salads of their own. Easy enough for one and special enough for a crowd, salads as a main course will be showing up on tables everywhere.
About the Author
TASHA DE SERIO began her career at Chez Panisse Restaurant and Cafe and left there to launch the highly regarded Olive Green Catering. Living in Berkeley, California, she's a chef, food writer, and cooking teacher. Her writing has appeared in "Food and Wine, Bon Appetit, "and "Fine Cooking," and she is the co-author of "Cooking from the Farmer's Market "by Williams-Sonoma.
Praise For Salad for Dinner: Simple Recipes for Salads That Make a Meal…
"What could be more important than a book that revolves entirely around beautiful salads? Now, more than ever, we need to focus on simple, fresh, pure food—and Tasha has been a vital part of this delicious revolution. It is her fine-tuning of taste that makes this book so valuable. " --Alice Waters "If you really want to know how to make a good salad, look no further. Tasha DeSerio is the teacher you need. Tasha is one of my favorite cooks, and here she offers her experience, common sense, and artistry to the finer points of salad-making. No one does it better. Brava!" --David Tanis, author of A Platter of Figs, and Heart of the Artichoke "Tasha set a new gold standard with her salads at Chez Panisse. This book reveals her secrets. It is a delight to have access to her recipes, ripe with good advice from a seasoned chef. Her skills and sense of humor will make you run to the market and start cooking." --Judy Rodgers and Gilbert Pilgram, owners of Zuni Cafe  "Finally, dinner salads get the respect they deserve! Tasha's recipes are fresh and appealing and her tone encouraging. Each recipe features simple but brilliant ingredient pairings, assuring that dinner salads are never boring again. With gorgeous photos and generous tips and sidebars, Salad for Dinner is a must-have cookbook that manages to be practical and inspiring, too." --Susie Middleton, editor-at-large for Fine Cooking magazine and author of Fast, Fresh & Green  "If you love 'fresh' like I do, you'll be inspired by Tasha's salad book. Just reading it made me want to run to the farmers' market. The only problem--every recipe sounds more delicious than the last, so it's difficult for me to decide which salad I want to make first!" --Joanne Weir, Chef, James Beard award-winning cookbook author, and host of the PBS show Joanne Weir's Cooking Confidence  "Having worked with Tasha at Chez Panisse for years, it's no wonder that her book, Salad for Dinner, is as wonderfully composed as the delicious foods she makes. Tasha truly understands the ingredients she works with, which produce healthy, inviting, and, most important, really delicious salads. Salad for Dinner will make us all think differently about the possibilities for dinner." --Peggy Smith, co-founder, Cowgirl Creamery
Advertisement