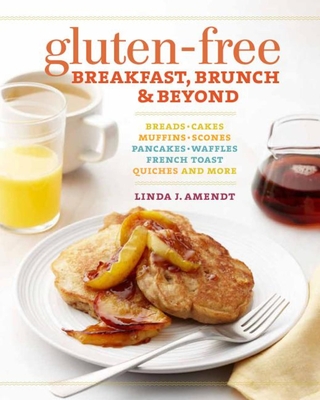 Gluten-Free Breakfast, Brunch & Beyond
Breads, Cakes, Muffins, Scones, Pancakes, Waffles, French Toast, Quiches and More
Paperback

* Individual store prices may vary.
Description
Breakfast is the favorite meal of the day for millions of Americans, but those with a gluten intolerance are out of luck, since many breakfast foods and baked items have been banned from their diet. They must find gluten-free alternatives or go without. For the rising number of Americans who are choosing to follow a gluten-free diet as a healthy lifestyle and for parents experimenting with gluten-free recipes for their families, they, too, are having to do without.
That disappointment will no longer be the case. In Gluten-Free Breakfast, Brunch & Beyond, home cooks will discover a variety of gluten-free recipes for their family's favorite breakfast foods. From light quick breads, muffins, biscuits and scones to tasty pancakes, waffles, coffee cakes and sweet rolls, this collection of 100 recipes will bring breakfast back to the gluten-free table. A tantalizing array of frittatas, quiches, and breakfast casseroles are perfect for any meal of the day. The recipes in Gluten-Free Breakfast, Brunch & Beyond are quick and easy to make and yield delicious, satisfying results.
Recipes for homemade all-purpose flour, crepe batter, pancake batter, sweet roll dough, and biscuit dough will give every gluten-free cook the basics for creating delicious dishes of their own.
In addition to great recipes, Gluten-Free Breakfast, Brunch & Beyond will provide cooks with the information they need about gluten-free ingredients, including ingredients to include--and avoid--in their diet and preparing and measuring ingredients. Each recipe chapter will begin with tips to help home cooks create great-tasting gluten-free breakfast specialties to serve from morning to night.
Show more
Show less
Taunton Press, 9781600857126, 233pp.
Publication Date: September 3, 2013
About the Author
Linda J. Amendt has written three award-winning cookbooks, including "400 Sensational Cookies" and "175 Best Jams, Jellies, Marmalades & Other Soft Spreads," both of which earned Cordon d' Or Gold Ribbon International Cookbook Academy Awards. She also is a baking, canning, and jam-making expert, having won over 900 awards in state and county fair food competitions across the country, including over 600 first place blue ribbons.
or
Not Currently Available for Direct Purchase