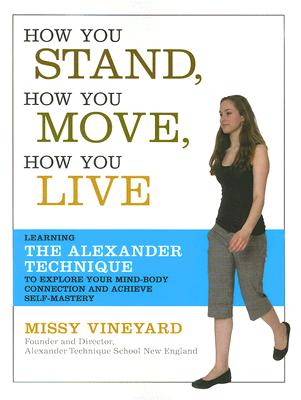 How You Stand, How You Move, How You Live
Learning the Alexander Technique to Explore Your Mind-Body Connection and Achieve Self-Mastery
Paperback

* Individual store prices may vary.
Description
The Alexander Technique (AT) is a remarkably simple but powerful method for learning to skillfully control how your brain and body interact, allowing you to better coordinate your movements while increasing the accuracy of your mind's thoughts and perceptions. Now, in How You Stand, How You Move, How You Live, leading Alexander Technique master teacher Missy Vineyard sheds a completely fresh light on this revolutionary method and, in the process, offers path-breaking insight into the mind-body connection. Vineyard thoroughly explains and teaches the central skills of the AT through simple self-experiments, and she offers engaging stories of students in their lessons to show its effective application across a range of disciplines, including the performing arts, athletics, health, psychology, and education. How You Stand, How You Move, How You Live introduces us to a world within ourselves that we know surprisingly little about--and thereby helps us to understand why we often cannot do what we should be able to do, why we harm ourselves with chronic tension and anxiety, and why our thoughts often seem beyond our control. Vineyard is also the first AT teacher to draw on cutting-edge research in neuroscience and to synthesize those findings with AT theories and techniques. She fully illuminates the benefits to be reaped by mastery of the Alexander Technique, which include: Release from acute or chronic physical pain Enhanced mental attention and focus Reduced anxiety Improved balance and coordination Relief from tension and stress Increased ease and efficiency performing precise movement skills
Da Capo Lifelong Books, 9781600940064, 336pp.
Publication Date: June 4, 2007
About the Author
Missy Vineyard is one of the foremost master teachers of the Alexander Technique in the United States today. Vineyard is the director of the Alexander Technique School of New England (ATSNE), which she founded in 1987, and the author of numerous articles on the technique. For the last nineteen years she has devoted the majority of her schedule to teacher training and to developing a unique, systematic curriculum designed to ensure the highest level of hands-on skill among the graduates of ATSNE. In addition to her work at ATSNE, she maintains a busy private teaching practice and conducts workshops on the Technique to a wide variety of groups, large and small, young and old. She lives in Amherst, Mass.
or
Not Currently Available for Direct Purchase