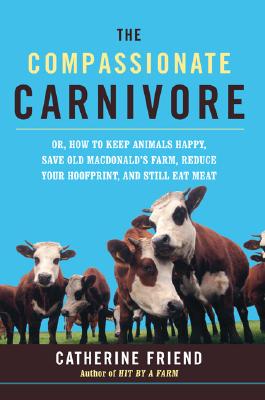 The Compassionate Carnivore (Hardcover)
Or, How to Keep Animals Happy, Save Old MacDonald's Farm, Reduce Your Hoofprint, and Still Eat Meat
Da Capo Lifelong Books, 9781600940071, 256pp.
Publication Date: April 22, 2008
Other Editions of This Title:
Paperback (4/28/2009)
* Individual store prices may vary.
Description
For most of her life, Catherine Friend was a carnivore who preferred not to consider where the meat on her plate came from—beef didn't have a face, chicken didn't have a personality, and pork certainly shouldn't have feelings. But Friend's attitude began to change after she and her partner bought a farm and began raising sheep for meat. Friend's ensuing odyssey through the world of livestock and farming is a journey that offers critical insights—for omnivores and herbivores alike—into how our meat is raised, how we buy it and from whom, and why change is desirable and possible.
From a distressing lesson about her favorite Minnesota State Fair food (pork-chop-on-a-stick) to the surprising gratitude that came from eating an animal she'd raised and loved, Friend takes us on a wild and woolly ride through her small farm (with several brief detours into life on factory farms), along the way raising questions such as: What are the differences between factory, conventional, sustainable, and organic farms, and more importantly, why do we need to understand those differences? What do all those labels—from organic to local to grass fed and pasture raised—really mean? If you're buying from a small farmer, what are the key questions to ask? How do you find that small farmer, and what's the best way to help her help you?
In the same witty and warm style that characterized her memoir Hit by a Farm, Friend uses her perspective as a sustainable farmer and carnivore to consider meat animals' quality of life—while still supporting the choice to eat meat. Regardless of whether you eat meat once a day, once a week, or once a year, your perspective of what goes on your plate—and in your mouth—will never be the same.
About the Author
Catherine Friend is the author of Hit By a Farm: How I Learned to Stop Worrying and Love the Barn, as well as numerous other books for adults and children. For the last twelve years she and her partner have raised sheep on a small, sustainable farm in southeastern Minnesota, where they sell lamb and beef to customers interested in eating humanely-raised meat.
Praise For The Compassionate Carnivore: Or, How to Keep Animals Happy, Save Old MacDonald's Farm, Reduce Your Hoofprint, and Still Eat Meat…
"I loved Catherine Friend's philosophy on how to be a compassionate carnivore, and I cried when I read the chapter Letter to My Lambs.' It really is possible to deeply care about animals and eat meat."—Temple Grandin, author of Animals in Translation
"At last, the perfect book for people who would like to eat meat but have moral, ethical, or health concerns about doing so. Catherine Friend loves animals but eats meat and gives a thoughtful, personal, clear-eyed perspective on how to do both, humanely and sustainably."—Marion Nestle, Professor of Nutrition, Food Studies, and Public Health at New York University, author What to Eat
"In this deeply personal account of her involvement in the humane raising of sheep, self-described shepherd, animal lover, and committed carnivore Catherine Friend leads us through the lives of meat animals—in our industrial food system, and on her farm—with metaphor, compassion, and wit. Acknowledging how complex the ethical choices have become, her goal is to show us how important it is to remain at the table,' helping support those farmers who raise animals humanely. A rich and enjoyable read."—Joan Gussow, author of This Organic Life
"Three carnivores live in our house. And if you eat meat, there will be blood. The Compassionate Carnivore/Friend will help you face the ugly slaughterhouse facts. She'll also help you make the right choices for your body and soul. There's no better guide through this moral thicket than a grass-farmer who eats her own meat."—Nina Planck, author of Real Food: What to Eat & Why
"Friend has a unique perspective on the morals, economics and practicalities of raising and eating meat humanely. With low-key, Mid-western humor, she takes readers on a tour of an abattoir, writes a love letter to her lambs heading for slaughter and relates how chivalry has been bred out of roosters her suggestions are so reasonable that even the most rampant, mainstream meat-eater might consider trying them."—Publishers Weekly
"Friend's sincere gratitude for her ability to raise her own meat in a way that is respectful to the animals, the economy, and the environment, shines through in her writing."—Bust
"This is the read you need."—Women's Health
or
Not Currently Available for Direct Purchase