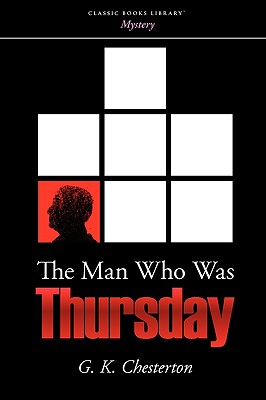 The Man Who Was Thursday (Paperback)
Waking Lion Press, 9781600964268, 184pp.
Publication Date: July 30, 2008
Other Editions of This Title:
Paperback (6/21/2018)
Library Binding (11/15/2005)
Paperback (5/18/2018)
Paperback (12/25/2019)
Paperback (1/13/2017)
Paperback (5/16/2017)
Paperback (3/16/2020)
Paperback (10/23/2019)
Paperback (1/14/2009)
Paperback (2/27/2020)
Paperback (5/8/2017)
Paperback (3/16/2020)
Paperback (1/4/2008)
Paperback (7/19/2019)
* Individual store prices may vary.
Description
G. K. Chesterton's classic novella tackles anarchy, social order, God, peace, war, religion, human nature, and a few dozen other weighty concepts. And somehow he manages to blend all of it together into a delightful satire, full of tongue-in-cheek commentary that is still relevant today. As the book opens, Gabriel Symes is debating with a soapbox anarchist. The two men impress each other enough that the anarchist introduces Symes to a seven-man council of anarchists, all named after days of the week. Soon they elect Symes their newest member--Thursday. But they don't know he's also been recruited by an anti-anarchist organization. And soon Symes finds out that he's not the only person on the council who is not what he seems. There are other spies and double-agents, all working for the same cause. But who--and what--is the jovial, powerful Mr. Sunday, the head of the organization? Hot-air balloons, elaborate disguises, duels, and police chases--all go to make up this satirical spy novel that both educates and entertains. Newly designed and typeset in a modern 6-by-9-inch format by Waking Lion Press.