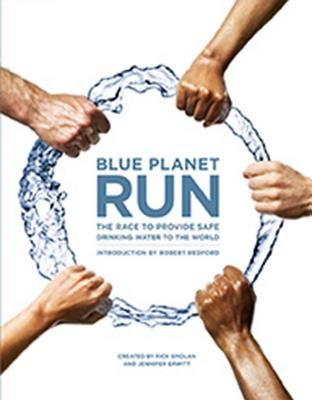 Blue Planet Run: The Race to Provide Safe Drinking Water to the World (Hardcover)
The Race to Provide Safe Drinking Water to the World
Earth Aware Editions, 9781601090171, 239pp.
Publication Date: November 28, 2007
* Individual store prices may vary.
or
Not Currently Available for Direct Purchase
Description
Blue Planet Run provides readers with an extraordinary look at the water problems facing humanity and some of the hopeful solutions being pursued by large and small companies, but entrepreneurs and activists, and by nongovernmental organizations and foundations. By the end of the book, readers are left to form their own conclusions as to whether or how the human race is capable of taking the steps necessary to solve this global crisis before it's too late. Blue Planet Run is two books in one: First, it is about an extraordinary 15,000-mile relay race - the longest relay race in human history - in which 20 athletes spent 95 days running around the globe to spread awareness of the world's water crisis. Secondly, it is a showcase of powerful, inspiring, disturbing and hopeful images captured by leading photojournalists around the world who documented the human face of the crisis and its possible solutions. The result of these two parallel projects is the book you hold in your hands. One hundred percent of the royalties from this book will be used to provide clean water to people around the world who desperately need it.
About the Author
Rick Smolan is a former Time, Life, and National Geographic photographer best known as the creator of the Day in the Life book series. He and his partner, Jennifer Erwitt, are the principals of Against All Odds Productions, based in Sausalito, California. Fortune Magazine featured Against All Odds as "One of the 25 Coolest Companies in America." Their global photography projects combine creative storytelling with state-of-the-art technology. Many of their books have appeared on the New York Times bestseller lists and have been featured on the covers of Time, Newsweek, and Fortune. Their books include America 24/7, One Digital Day, 24 Hours in Cyberspace, Passage to Vietnam, The Power to Heal, and From Alice to Ocean. They live with their two children, Phoebe and Jesse, in Northern California.
Praise For Blue Planet Run: The Race to Provide Safe Drinking Water to the World…
From The Flint Journal First Edition
OK, I really hate to admit this, but there's no denying it: Blue Planet Run - The Race to Provide Safe Drinking Water to the World sounds like a noble but dirt-dry text on scholarly environmental issues. It's not just me. In fact, a co-worker walking past my desk took one quick glance at the book's plain white cover, muttered "boring" and kept on walking. But please, don't judge this book by its cover. Trust me on this. Just open the oversized volume to any page at all. You won't want to put it down. Blue Planet Run is a visually stunning tour de force by some of the world's top photojournalists, backed up by thought-provoking essays and profound commentaries on the many ways humanity is confronting the growing lack of a clean and plentiful water supply. The book's collection of more than 250 photographs are at once beautiful and haunting, enlightening and disturbing, inspiring and even, at times, amusing. From the cornfields of Nebraska to an oil-fouled Nigerian port, this group of talented artists and visionaries takes us on an amazing journey around the world. And despite its global scale, it is first and foremost a book about people, in a very intimate and individual sense. You'll meet Kenyan runner Emanuel Kibet; Las Vegas homeowner Joseph Cooper, who's replacing his backyard lawn with artificial turf; Imelda Carreon Valdozino and her mission to test for toxins in Mexico City's water supply. From the anonymous to the famous, young and old, rich and poor, their faces are all our faces, and their challenges belong to us all. Need another incentive? Buying this book isn't just a passive venture into eco-awareness. One hundred percent of the royalties from Blue Planet Run will be used to provide clean water to people around the world who desperately need it. Learning about a problem is the first step toward being part of the solution.
Advertisement