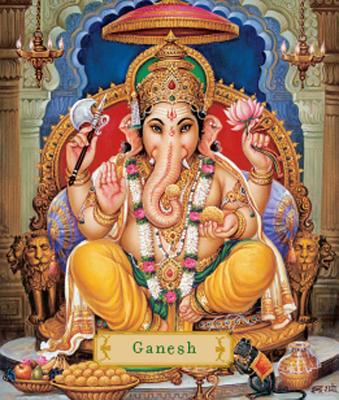 Ganesh (Hardcover)
Removing the Obstacles
Mandala Publishing, 9781601090294, 96pp.
Publication Date: January 6, 2009
* Individual store prices may vary.
Description
In India, statues of Ganesh are placed at the inner gates of many temples, symbolizing his role as keeper of sacred spaces. Here, pilgrims and passersby pay homage and seek his blessings. It is this symbolic presence at the entrance of our most holy places that makes Ganesh such a vital figure in our lives. Stationed at the threshold of sacredness and awareness, mediating between the possibility of the profound and our often habitual, mundane perception of the world, Ganesh is the guiding force behind this very moment of experience - where desire meets possibility. Ganesh: Removing the Obstacles offers practical and meaningful interpretations of folk narratives and sacred texts concerning the larger-than-life elephant-headed god, Ganesh.
About the Author
James H. Bae is a practitioner of both Hindu and Buddhist yoga systems. For years Bae has lived in India investing himself in his spiritual study and training as a monk. His primary areas of study include Oriental medicine, Hindu and Buddhist art, and Eastern philosophy and culture. Bae is the author of Darshan: Sweet Sounds of Surrender, Smaranam: A Garland of Kirtan, In a World of Gods and Goddesses: The Mystic Art of Indra Sharma, and a frequent writer for the Mandala diety mini-books. Bae currently writes and studies at his home in Hilo, Hawaii.