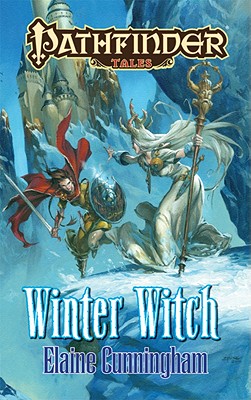 Pathfinder Tales (Paperback)
Winter Witch
Paizo Inc., 9781601252869, 361pp.
Publication Date: December 7, 2010
* Individual store prices may vary.
Description
In a village of the frozen north, a child is born possessed by a strange and alien spirit, only to be cast out by her tribe and taken in by the mysterious winter witches of Irrisen, a land locked in permanent magical winter. Farther south, a young mapmaker with a penchant for forgery discovers that his sham treasure maps have begun striking gold. This is the story of Ellasif, a barbarian shield maiden who will stop at nothing to recover her missing sister, and Decclan, the ne'er-do-well young spellcaster-turned-forger who wants only to prove himself to the woman he loves. Together they'll face monsters, magic, and the fury of Ellasif's own cold-hearted warriors in their quest to rescue the lost child. Yet when they finally reach the ice-walled city of Whitethrone, where trolls hold court and wolves roam the streets as men, will it be too late to save the girl from the forces of darkness?