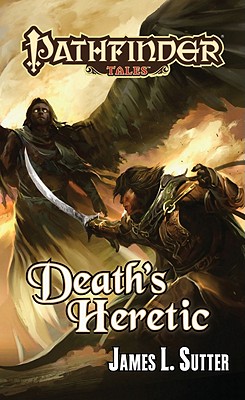 Death's Heretic
Paperback

* Individual store prices may vary.
Other Editions of This Title:
MP3 CD (8/9/2016)
Description
Nobody cheats death. A warrior haunted by his past, Salim Ghadafar serves as a problem-solver for a church he hates, bound by the goddess of death to hunt down those who would rob her of her due. Such is the case in the desert nation of Thuvia, where a powerful merchant on the verge of achieving eternal youth via a magical elixir is mysteriously murdered, his soul kidnapped somewhere along its path to the afterlife. The only clue is a magical ransom note, offering to trade the merchant's successful resurrection for his dose of the fabled potion. But who would have the power to steal a soul from the boneyard of Death herself? Enter Salim, whose keen mind and contacts throughout the multiverse should make solving this mystery a cinch. There's only one problem: The investigation is being financed by Neila Anvanory, the dead merchant''s stubborn and aristocratic daughter. And she wants to go with him. Along with his uninvited passenger, Salim must unravel a web of intrigue that will lead them far from the blistering sands of Thuvia on a grand tour of the Outer Planes, where devils and angels rub shoulders with fey lords and mechanical men, and nothing is as it seems...
Paizo Publishing, 9781601253699, 385pp.
Publication Date: December 6, 2011
or
Not Currently Available for Direct Purchase