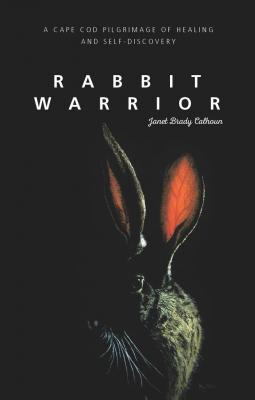 Rabbit Warrior
A Cape Cod Pilgrimage of Healing and Self-Discovery
Paperback

* Individual store prices may vary.
Description
Rabbit Warrior is a captivating memoir of a transformative journey of renewal and discovery. Disoriented by intense mourning over the loss of both her mother and sister within a short time span, the author found consolation and reconciliation on a pilgrimage of solace to her beloved Cape Cod home.

Emotionally overwhelmed, Janet turned inward for personal healing and wholeness. As she quietly contemplated the meaning of life and death, the Cape's wildlife became a voice for inspiration and revelation. Horseshoe crabs, lobsters, a great blue heron, and rabbits "spoke" to her of life: change and evolution, pain and suffering, death and dying. Supported on her journey by daily journal writing that exposed persons, places and memories stored deep within, she unmasked falsehoods, gave up protective "magical thinking," and examined relationships in an effort to live a more authentic life.

Writers and fellow soul-searching travelers helped Janet dispel guilt, expunge destructive messages and peel away emotional layers accumulated over decades. As she traversed her soul, Janet resolved to move ever deeper towards her core, her spiritual center. A summer that began with overwhelming sorrow mixed with angry confusion, ended with transformative feelings of enlightenment, forgiveness, love and rebirth.

Janet hopes that both her memoir, as well as her summer reading list, will provide a template for other Rabbit Warriors who might wish to undertake their own liberating journey as well.
Praise For Rabbit Warrior: A Cape Cod Pilgrimage of Healing and Self-Discovery…
"Janet Calhoun's courageous vulnerability in this book is stunning. As she seeks healing from personal loss and inner pain, she turns to other writers for help and inward into herself. Her beloved Cape Cod provides the refuge she needs, and it is there that she observes, questions, probes, and relentlessly seeks peace and closure. She submits to the journey and creates a rhythm between the pain of the past and the beauty and solitude of the present. Finding parallels in nature, she allows it to instruct her with its lessons about vulnerability, protections, following instincts, and accepting outcomes. Read this book and you'll be talking to the animals, too. And you'll be asking yourself a lot of questions. Calhoun inspires us to face our own pain and grief with the determination to heal."

-Dolores Parsil, author of Lancaster's Good Man, John Piersol McCaskey
Masthof Press, 9781601265166, 310pp.
Publication Date: January 1, 1970
About the Author
Janet Brady Calhoun graduated cum laude from Franklin and Marshall College, Lancaster, Pennsylvania at age fifty. She went on to become the first woman president of Lancaster City Council, the Lancaster County co-chair of Congressman Tom Ridge's successful gubernatorial campaign, and the Executive Director of Pennsylvania's First Lady's signature project. Janet completed her government service as Special Assistant to the Secretary of Human Services. Janet spent five years writing her memoir and another five years deciding whether or not to "stand naked" in public by publishing her memoir. In the hope that one revelatory journey might add perspectives that soften the journeys of others, "standing naked" won out. Janet resides in Lancaster, Pennsylvania with her husband Phil, surrounded by her beloved children and grandchildren.
or
Not Currently Available for Direct Purchase