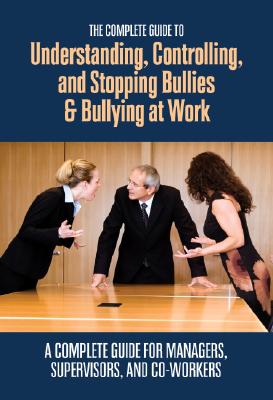 The Complete Guide to Understanding, Controlling, and Stopping Bullies & Bullying at Work: A Complete Guide for Managers, Supervisors, and Co-Workers (Paperback)
A Complete Guide for Managers, Supervisors, and Co-Workers
Atlantic Publishing Company (FL), 9781601382368, 285pp.
Publication Date: June 1, 2008
* Individual store prices may vary.
or
Not Currently Available for Direct Purchase
Description
According to the Occupational Safety and Health Administration (OSHA), more than two million workers in the United States alone are victims of workplace violence each year, leading to millions of dollars lost in employee productivity. Many people believe that bullying occurs only among school-age children and fail to acknowledge the presence and devastating effects of bullying in the workplace. It is time that this destructive issue be addressed and resolved; however, you may be asking yourself how to accomplish such a task. The Complete Guide to Understanding, Controlling, and Stopping Bullies & Bullying at Work will provide you with valuable information on the topic, as well as unique solutions to the problem.
In this new book, you will learn how to identify the problem of workplace bullying, how to define the workplace bully, how to identify characteristics of a targeted employee, how to identify pathological characteristic of workplace bullies, how to bust bullying, and how to bully-proof your employees. This book also discusses the indicators of a toxic workplace, the causes of workplace bullying, reasons why workplace bullying is perpetuated and unchallenged by other employees, the connection between bullying and lethal workplace violence, and the legal aspects of bullying. Furthermore, you will learn about mob bullying, the effects of bullying on the target, and the effects of bullying on the organization. The author also covers such special topics as workplace bullying in federal, state, and local organizations; the United States armed forces; Fortune 500 companies; and medical organizations, as well as reverse bullying by employees who inappropriately assert harassment and bullying by their superiors even though they have been fairly disciplined for sub-standard job performance. This book goes one step further and provides solutions to end workplace violence, anti-bullying pledges, and examples of zero-tolerance bullying policies. If you are a manager, a supervisor, or even just an employee and you suspect bullying is occurring, you need to read this book. Whether bullying is already happening or you want to be sure it never does, The Complete Guide to Understanding, Controlling, and Stopping Bullies & Bullying at Work will provide you with everything you need to know to create a better working environment. Atlantic Publishing is a small, independent publishing company based in Ocala, Florida. Founded over twenty years ago in the company president's garage, Atlantic Publishing has grown to become a renowned resource for non-fiction books. Today, over 450 titles are in print covering subjects such as small business, healthy living, management, finance, careers, and real estate. Atlantic Publishing prides itself on producing award winning, high-quality manuals that give readers up-to-date, pertinent information, real-world examples, and case studies with expert advice. Every book has resources, contact information, and web sites of the products or companies discussed.
About the Author
Margaret Kohut is an Oklahoma native and still holds proudly to her "Midwestern drawl." She earned bachelor's degrees in English and criminal justice, and a master's degree in social work. Her initial foray into human service work was as a correctional officer in both adult and juvenile maximum security correctional institutions. Margaret's unique job history includes being a courtroom bailiff and a fugitive recovery agent ("bounty hunter"), and she spent a year in the private practice of clinical social work specializing in adoption studies, pre-sentence investigations, probation and parole intervention, family therapy, and therapy with troubled juveniles. Margaret has a strong educational and vocational history of forensic counseling and addiction therapy. Margaret served in the United States Air Force for 17 years as a commissioned officer and clinical social worker, providing psychotherapy services for active duty members, family members, and retirees. Margaret served the nation during Operation Desert Storm and Operation Iraqi Freedom. She is now a disabled veteran, conducting her full-time freelance writing business from her home. Margaret maintains national-level certifications in human services. She is a prolific writer, having penned many award-winning publications for the Air Force on mental health issues, domestic violence, workplace violence, chemical dependency, trauma therapy, and adolescent acting-out behavior. As a civilian, Margaret coauthored an academic textbook on sexual serial killers and has been extensively published in the Canadian Journal of Adlerian Psychology and other academic publications. Margaret founded Rocky Mountain Way Freelance Writing in February 2006 after more than 20 years of non-commercial writing. Margaret was selected for the 2007-2008 Cambridge Registry Honors Edition of Outstanding Business and Professional Women. She is the recipient of numerous writing awards, including the 2008 National Book Award and the Bronze Medal Award from the Independent Publishers contest in 2008 for her book on school bullying. In 2009, Margaret was selected for lifetime inclusion in the Cambridge Who's Who Registry. Margaret lives in Anaconda, Montana with her husband of 18 years, Lt. Col. (ret) Dr. Tristan Kohut, senior physician at the Montana State Prison, and their 13 miniature dachshunds; most of them are accomplished animal-assisted therapy dogs. She can be reached via her Web site, www.rockymountainwaywriting.com.
Advertisement