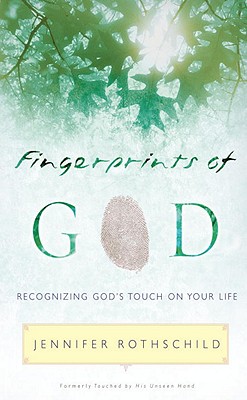 Fingerprints of God (Paperback)
Multnomah Books, 9781601420374, 160pp.
Publication Date: December 1, 2006
* Individual store prices may vary.
or
Not Currently Available for Direct Purchase
Description
To a blind person, human touch is essential. In the absence of facial expressions, it reassures and comforts. But can you still feel the warm and soothing touch of an unseen God? Author and musician Jennifer Rothschild, who lost her vision at the age of fifteen, explains how God's touch works from the inside out, warming the heart, mind, and soul. It lifts weights that eyes could never see. It washes away the anguish of guilt, the bite of fear, and the ache of loneliness. With the gentle pressure of His hand on our shoulders, we can find our way through the darkest of nights.
About the Author
Jennifer Rothschild, speaker, author, and recording artist, captivates audiences with her storytelling and signature wit as she travels across the country challenging her listeners to walk by faith, not by sight. Rothschild is cofounder of WomensMinistry.NET and lives in Springfield, Missouri, with her husband, Philip, and their sons, Clayton and Connor.
Advertisement