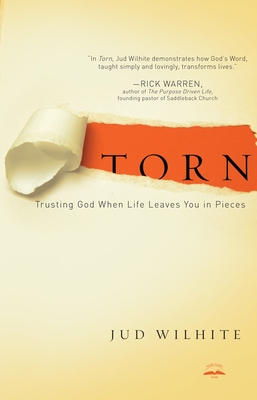 Torn: Trusting God When Life Leaves You in Pieces (Paperback)
Trusting God When Life Leaves You in Pieces
Multnomah Books, 9781601420732, 210pp.
Publication Date: August 16, 2011
Description
When Every Why Goes Unanswered
When our world comes crashing down, it does more than steal our peace. Something inside us tears. We feel broken, stranded--torn.
We naturally ask the question "Why?" when we're hurting. But as pastor Jud Wilhite turned to the Bible in his own pain, he was surprised to discover that another question matters more: "Who?" Who is worthy of our trust when our trust when our lives are in pieces?
You may be experiencing a time of such darkness that you wonder if you will ever find "normal" again or look toward the future with hope. In Torn, Jud explores your questions as well as God's answers--and God's mysteries. With a pastor's heart, he looks with you at practical ways to fight for joy, deal with anger and depression, and make the million tiny decisions that add up to a life committed to God, even when your heart is broken.
It's not about having better arguments for the purpose behind our suffering. It's about our relationship with God--a relationship that can flourish even when our whys go unanswered.
About the Author
Jud Wilhite is an author, speaker, and the senior pastor of Central Christian Church in Las Vegas. More than nineteen thousand people attend its multiple campuses each weekend. Jud's books include Throw It Down, Eyes Wide Open, and Uncensored Grace. Jud and his wife, Lori, reside in the Las Vegas area with their children and a slobbery bulldog named Roxy.
Praise For Torn: Trusting God When Life Leaves You in Pieces…
Praise for Jud Wilhite

"Wilhite holds nothing back as he describes the life-changing power of God's forgiveness as it's encountered on the streets of Vegas. Wherever hurt lives, God's grace is present with more than enough power to heal."
—Rick Warren, founding pastor of Saddleback Church and author of The Purpose Driven Life

"What God is up to in Vegas is nothing short of hard-core. Jud describes an extreme faith that is extremely amazing. With clarity and passion, Uncensored Grace offers a renewed sense of hope for whatever you are up against. Don't miss this book."
—Stephen Baldwin, actor and author of The Unusual Suspect

"Jud Wilhite is a compelling new voice and model for a new way to be Christian in today's culture."
—Gabe Lyons, author of The Next Christians

"Stripped is full of surprises and twists. It will captivate and inspire you as it describes the difference Jesus can make in your life."
—Lee Strobel, author of The Case for Christ

"If you've given up your dreams of ever finding a genuine fresh start in your life, you ought to read this book. Real people. Real problems. Real hope. Get ready to be rocked by a fresh touch of amazing grace."
—Gene Appel, pastor of Eastside Christian Church, Fullerton, CA

Advertisement