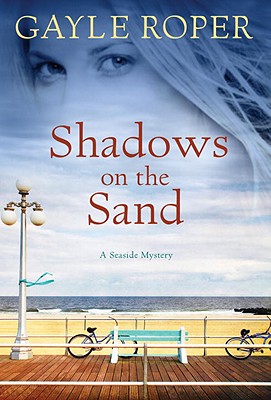 Shadows on the Sand (Paperback)
A Seaside Mystery (Seaside Seasons #5)
Multnomah, 9781601420848, 320pp.
Publication Date: July 19, 2011
Other Editions of This Title:
Hardcover, Large Print (9/1/2011)
* Individual store prices may vary.
Description
She serves him breakfast at her café every morning … but he never seems to notice her.
 
Carrie Carter's small café in Seaside, New Jersey, is populated with a motley crew of locals … although Carrie only has eyes for Greg Barnes. He's recovering from a vicious crime that three years ago took the lives of his wife and children—and from the year he tried to drink his reality away. While her heart does a happy Snoopy dance at the sight of him, he never seems to notice her.
 
When Carrie's dishwasher is killed and her young waitress disappears, Greg finds himself drawn into helping Carrie solve the mysteries … and into her life. But when Carrie's own painful past becomes all too present, her carefully constructed world begins to sink.
 
Will the fragile relationship she's building with Greg implode from the weight of the baggage they both carry?
About the Author
GAYLE ROPER, a member of American Christian Fiction Writers and Romance Writers of America, is the multiaward-winning, best-selling author of Fatal Deduction and more than forty other books. She teaches and leads mentoring clinics at writers conferences across the country. Gayle lives in eastern Pennsylvania.
Praise For Shadows on the Sand: A Seaside Mystery (Seaside Seasons #5)…
Praise for Shadows on the Sand

"Gayle Roper's mysteries get deeper and develop more tangled threads with each book. The characters and setting are so real I wanted to run out and help them. Happily ever after was in serious doubt. Very well done."
—Lauraine Snelling, author of the Daughters of Blessing Series and the Red River of the North Series

"There's nothing quite like a long-awaited vacation, especially when it's served up with a Gayle Roper novel. Shadows on the Sand, a tale of faith, forgiveness, and fresh starts all wrapped in a captivating mystery, was just what I needed to return to the real world refreshed and inspired."
—Tamara Leigh, author of Nowhere, Carolina and Restless in Carolina

"With vivid, realistic characters and a tightly woven plot, Shadows on the Sand is a novel I couldn't put down. The emotional ride stayed with me long after the last page. Highly recommend!"
—Robin Caroll, author of In the Shadow of Evil

"Shadows on the Sand is a rare mix of love story, spiritual warfare, and crime drama all rolled into one fabulous tale. Gayle Roper has once again created fascinating characters and a rich story that kept me up well into the night."
—Mark Mynheir, homicide detective and author of The Corruptible

Carrie loves her café. Greg dislikes property management. What about your job? Why do you feel the way you do about it? Does God promise us jobs we love? Read Ecclesiastes 2:17; 9:10; and Colossians 3:23–24. What are your thoughts?
The watch Clooney gives Carrie is a symbol of what? Read Ecclesiastes 3:1, 4. Have you had experience with this principle?
What do you do when it doesn't appear to be God's timing for your heart's desire? Read Psalms 27:14 and 37:4. What do you think of these seemingly opposite truths?
Carrie says that distance helps her forgive her mother. What do you think of this idea?
In chapter 32, Carrie talks about the essence of genuine faith. Do you agree with her assessment? Read Hebrews 11:1.
In chapter 34, Carrie and Greg talk about what often draws men and women to cults that are outside the norm of American life and certainly outside orthodox Christianity. What are the main elements Greg says attract many? What is often the downfall of a cult?
When Carrie's mother arrives in Seaside, what is Carrie's reaction? What do you think your reaction would be if you had a similar history? Why is Lindsay's reaction so different?
Why are Carrie's mother and stepfather a sign of hope? Read 2 Corinthians 5:17 and Ephesians 2:1–5.
Mary Prudence is Carrie's "God-mother," a gift from the Lord. Does a mentor have to be this obvious? Have there been people in your life who have been there at crucial moments with a word or a helping hand? Share your stories with others in the discussion group.
Greg concludes that he can never be all that Carrie needs any more than he was all that Ginny needed. Discuss this critical realization in light of romance novels.
or
Not Currently Available for Direct Purchase