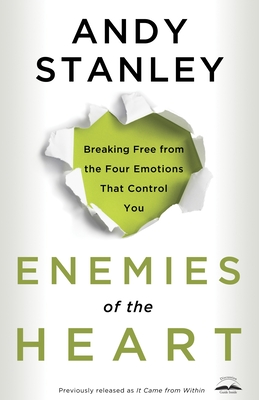 Enemies of the Heart: Breaking Free from the Four Emotions That Control You (Paperback)
Breaking Free from the Four Emotions That Control You
Multnomah Books, 9781601421456, 218pp.
Publication Date: June 21, 2011
Description
Break free from the destructive power of guilt, anger, greed, and jealousy. Divorce. Job loss. Estrangement from family members. Broken friendships. The difficult circumstances you are dealing with today are likely being fed by one of four emotional forces that compels you to act in undesirable ways, sometimes even against your will. Andy Stanley explores each of these destructive forces--guilt, anger, greed, and jealousy--and how they infiltrate your life and damage your relationships. He says that, left unchallenged they have the power to destroy your home, your career, and your friendships. In Enemies of the Heart, Andy offers practical, biblical direction to help you fight back, to take charge of those feelings that mysteriously control you, and to restore your broken relationships. Includes a six-week discussion guide--a valuable resource for small groups Previously released as It Came from Within
About the Author
Andy Stanley Communicator, author, and pastor, ANDY STANLEY founded Atlanta-based North Point Ministries in 1995. Today, NPM is comprised of six churches in the Atlanta area and a network 30 churches around the globe collectively serving nearly 70,000 people weekly. As host of Your Move with Andy Stanley, with over five million messages consumed each month through television and podcasts, and author of more than 20 books, including The New Rules for Love, Sex & Dating, Ask It, How to Be Rich, Deep & Wide, Visioneering, and Next Generation Leader, he is considered one of the most-influential pastors in America. Andy and his wife, Sandra, have three grown children and live near Atlanta. From the Hardcover edition.
Praise For Enemies of the Heart: Breaking Free from the Four Emotions That Control You…
Praise for Enemies of the Heart

"Andy Stanley touches the right nerve at the right time. We all have an understandable tendency to focus on the problems others need to address in their lives. But Andy encourages us to put ourselves on the hook and not let go until we've made any necessary changes. This book shined a spotlight on some of those areas I need to work on, and
I know it will do the same for you."
—Shaunti Feldhahn, best-selling author of For Women Only

"Andy Stanley is a master teacher for a generation that loves to be taught. Here is yet more proof of Andy's ability to take us deep in a way that makes us want to go there. This is a great book."
—Dave Ramsey, New York Times best-selling author and nationally syndicated radio host

"Read this book with caution! You will probably uncover some mean and ugly stuff in the depths of your own heart. I sure did. The good news is that Andy Stanley doesn't leave you there to struggle; instead, he offers wise, biblical remedies that every Christian should make part of their own spiritual habits. This is great stuff that I enjoyed teaching
at our church."
—Doug Fields, former associate pastor, Saddleback Church
Advertisement