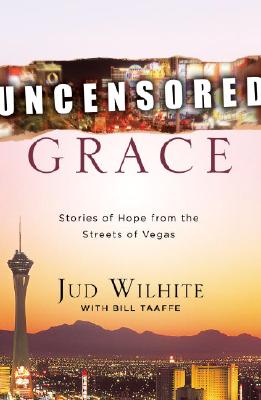 Uncensored Grace: Stories of Hope from the Streets of Vegas (Paperback)
Stories of Hope from the Streets of Vegas
Multnomah Books, 9781601421463, 239pp.
Publication Date: December 16, 2008
* Individual store prices may vary.
or
Not Currently Available for Direct Purchase
Description
Behind the glitz and glam of Sin City, an amazing story is unfolding. It's a story of people who have run out of dreams, given up on hope. It's a story of what can happen when Christians open their arms wide really wide in the name of Christ.
In "Uncensored Grace," Jud Wilhite and Bill Taaffe introduce you to card players, exotic dancers, a flying Elvis, an "American Idol" contestant, and a beat cop turned hero, among others. Each has one thing in common at their moment of extreme need they encounter an extraordinary God. And the place they find him is in an unusual church community that is gambling everything on a hope-filled message they call uncensored grace.
Writes Jud, As a pastor, I completely misjudged what grace could look like in my world. Sure, I believed in a God who passionately pursues every human being, no matter how beat up or broken. I believed, but not enough. Not nearly.
Welcome to the streets of Vegas. What happens here could change your life.
In "Uncensored Grace, "Jud Wilhite describes the life-changing power of God's forgiveness as it's encountered on the streets of Vegas. Wherever lives hurt, God's grace is present with more than enough power to heal.
-Rick Warren, author of "The Purpose Driven Life

About the Author
Jud Wilhite is senior pastor of Central Christian Church, a pioneering community of faith in Las Vegas. More than ten thousand people attend Central s campuses each weekend. Jud is the author of "Faith That Goes the Distance" and a creative partner with Pursuit.org. He lives in the Las Vegas area with his wife, Lori, and their two children.

Bill Taaffe is a writer and editor whose articles have appeared in "The New York Times," "The Washington Post," and "Sports Illustrated," where he was a columnist and senior editor for nearly ten years. He and his wife, Donna, live in the Las Vegas area with their son. "From the Hardcover edition.""
Praise For Uncensored Grace: Stories of Hope from the Streets of Vegas…
"In Uncensored Grace, Jud Wilhite holds nothing back as he describes the life-changing power of God's forgiveness as it's encounteredon the streets of Vegas. Wherever lives hurt, God's grace is present with more than enough power to heal."
– RICK WARREN
Founding pastor of Saddleback Church and author of The Purpose Driven Life

"What happens in Vegas just went public! Uncensored is full of surprises and twists. It will captivate and inspire you as it describes the difference Jesus can make in your life."
–LEE STROBEL
Author of The Case for Christ

"What God is up to in Vegas is nothing short of hardcore. Jud describes an extreme faith that is extremely amazing. With clarity and passion, Uncensored Grace offers a renewed sense of hope for whatever you are up against. Don't miss this book."
–STEPHEN BALDWIN
Actor and author of The Unusual Suspect
"Jud Wilhite is a compelling new voice and model for a new way to be Christian in today's culture."
–GABE LYONS
Founder of Fermi Project and cofounder of Catalyst

"Reading Uncensored Grace will open your eyes to the wonders of God's saving love. It will give you hope that, no matter where you are in your 'process,' God is at work–and He is for you."
–CRAIG GROESCHEL
Pastor of Lifechurch.tv, and author of Chazown and Confessions of a Pastor

"Uncensored Grace is filled with stories God must love!"
–JOHN ORTBERG
Pastor at Menlo Park Presbyterian Church in California

"If you've given up dreams of ever finding a genuine fresh start in your life you ought to read this book. Real people. Real problems. Real hope. Get ready to be rocked by a fresh touch of amazing grace."
–GENE APPEL
Lead Pastor, Willow Creek Community Church, South Barrington, Illinois

Uncensored Grace brings the brutal truth and the message of redemptive grace front and center. I was deeply moved and so inspired by these powerful and provocative stories of God's mercy. Uncensored Grace will transform your faith as you get a glimpse of how Jesus has set up shop on the streets of sin city.
–MIKE FOSTER
President of Ethur.org and founder of XXXchurch
Advertisement