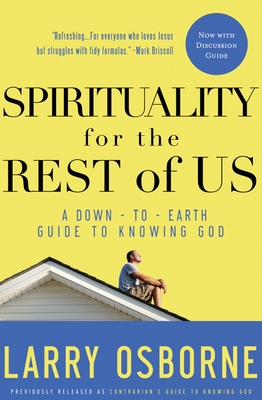 Spirituality for the Rest of Us: A Down-To-Earth Guide to Knowing God (Paperback)
A Down-To-Earth Guide to Knowing God
Multnomah Books, 9781601422194, 254pp.
Publication Date: April 14, 2009
Description
-This is a good book for people who like reading books about spiritual growth. It's even better for people who don't If you've ever thought that maybe you -just weren't the spiritual type, ' this book's for you.-
-John Ortberg
-Rich wisdom brilliantly communicated by a very talented writer. Takes the blinders off and opens your eyes to some strange and unique ways God works.-
-Stephen Arterburn
-This book will speak to everyong who has ever felt 'left out' spiritually. Larry's insights cut through the commonly accepted, guilt-induced world of religion as he caputures the raw essence of New Testament relationship.-
-Craig Groeschel.
About the Author
Larry Osborne is a senior pastor at North Coast Church in Vista, California, a multi-campus ministry recognized as one of the ten most influential churches in America. His books on spirituality and leadership reach a wide audience. He lives in Oceanside, California with his wife and family.
Praise For Spirituality for the Rest of Us: A Down-To-Earth Guide to Knowing God…
"This is a good book for people who like reading books about spiritual growth.  It's even better for people who don't! If you've ever thought that maybe you "just weren't the spiritual type,' this book's for you."
-John Ortberg


"Rich wisdom brilliantly communicated by a very talented writer. Takes the blinders off and opens your eyes to some strange and unique ways God works."
-Stephen Arterburn


"This book will speak to everyong who has ever felt 'left out' spiritually. Larry's insights cut through the commonly accepted, guilt-induced world of religion as he caputures the raw essence of New Testament relationship."
-Craig Groeschel


"This is a good book for people who like reading books about spiritual growth.  It's even better for people who don't! If you've ever thought that maybe you "just weren't the spiritual type,' this book's for you."
-John Ortberg
Advertisement