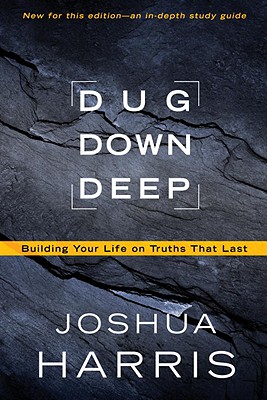 Dug Down Deep: Building Your Life on Truths That Last (Paperback)
Building Your Life on Truths That Last
Multnomah Books, 9781601423719, 271pp.
Publication Date: May 17, 2011
Description
What are you going to build your life on?

Dug Down Deep is systematic theology like you've never seen it before. Readable. Relevant. Powerful. As best-selling author Joshua Harris shares his own journey from apathetic church-kid to student with a burning passion to truly know God, you'll be challenged to dig deep into the truths of God's word.
With humor, conviction and compelling insight Dug Down Deep covers the basics of faith--God, scripture, Jesus, the cross, salvation, sanctification, the Holy Spirit and the church. Don't settle for superficial faith, dig deep.
"If you're looking for 'that one book' that will push you farther down the road to faith than you've ever journeyed before, Dug Down Deep is it. I highly recommend it " --Joni Eareckson Tada
..".a humble, helpful, courageous testimony to biblical truth." - John Piper

"I can probably count on one hand, the number of books of which I've read every word from cover to cover in one sitting. Dug Down Deep is one of them." - Adam Young (Owl City)

"Dug Down Deep is an incredible book It's a tangible and incarnate look at theology. I would give it to any young Christian who wants to understand their faith." - Lecrae, hip-hop artist
"A humbling, compelling, invigorating read." - J. I. Packer

About the Author
Joshua Harris is senior pastor of Covenant Life in Gaithersburg, Maryland, which belongs to the Sovereign Grace network of local churches. He is the author of Why Church Matters and several books on relationships, including the run-away bestseller, I Kissed Dating Goodbye. He and his wife, Shannon, have three children. Find out more at www.joshharris.com.
Praise For Dug Down Deep: Building Your Life on Truths That Last…
Praise for Dug Down Deep

"More than forty years of quadriplegia has underscored to me the matchless value of knowing—really knowing—the doctrines of the Christian faith. Dug Down Deep reveals how biblical doctrine provides a pathway to understanding the heart and mind of God. If you're looking for 'that one book' that will push you farther down the road to faith than you've ever journeyed before, Dug Down Deep is it. I highly recommend it!"
—Joni Eareckson Tada, author; founder and CEO, International Disability Center, Agoura Hills, CA
"In Dug Down Deep my longtime friend Joshua Harris explains the basics of Christian theology in a way all of us can understand. He is a humble man and teaches humbly. If you are tired of hyped promises and want essential truth, this book is for you. As religious fads come and go, the truths in this book will last."
—Donald Miller, author of Blue Like Jazz

"When the apostle Peter says, "Humble yourselves under the mighty hand of God…casting all your anxiety on Him," he implies that humble people are fearless. They have the courage to stand up for truth humbly. I love the term "humble orthodoxy." And I love Josh Harris. When they come together (Josh and humble orthodoxy), as they do in this book, you get a humble, helpful, courageous testimony to biblical truth. Thank you, Josh, for following through so well on the conversation in Al Mohler's study."
—John Piper, author of Desiring God; Pastor for Preaching and Vision, Bethlehem Baptist Church, Minneapolis

"Via vivid autobiography, Pastor Harris takes readers on a personal journey into the biblical theology that, belatedly, he found he could not manage without. A humbling, compelling, invigorating read."
—J. I. Packer, author of Knowing God


"Josh says that this book is his 'reveling in theology in my own simple way.' Having read it, I can say that it is also a popular defense of the importance of theology and, at the same time, an introduction to it. I enjoyed reading it. And my mind immediately began to go to how I could use this book. Josh has given me a new tool! It is interesting, well written, and excellently illustrated. Josh has succeeded again in giving us a book that is clear, engaging, direct, solid, easy to read, sound, God centered, balanced, humorous—and it even has pictures!"
—Mark Dever, author; Senior Pastor, Capitol Hill Baptist Church, Washington DC
"Dug Down Deep is an incredible book! It's a tangible and incarnate look at theology. I would give it to any young Christian who wants to understand their faith."
—Lecrae, hip-hop artist
"As two young guys who have been deeply blessed and influenced by Josh's books and example, we couldn't be more excited about Dug Down Deep and how God is going to use it to transform a generation. It's a gripping and honest read. In it we learned things about our older brother that we had never, in twenty-one years, been told before! But more importantly, we learned things about our Savior that caused us to fall more deeply in love with him and his Word. Get this book. Read it. And join us on a journey to rediscover what has always been true."
—Alex and Brett Harris, authors of Do Hard Things


"At Boundless, we've enjoyed watching young adults cultivate a fresh desire to go 'further up and further in' as followers of Christ. Few writers fuel that desire quite like Joshua Harris. With humility, humor, and honesty, Dug Down Deep shows the difference that a foundation can make—how vulnerable you can be when it's weak and how transformed you can be when you're willing to go deep."
—Ted Slater, editor, Boundless.org; Focus on the Family
Advertisement