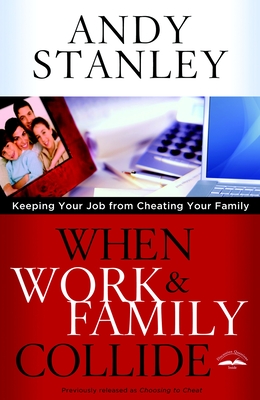 When Work & Family Collide: Keeping Your Job from Cheating Your Family (Paperback)
Keeping Your Job from Cheating Your Family
Multnomah Books, 9781601423795, 143pp.
Publication Date: December 20, 2011
Description
Is Your Occupation Also Your Preoccupation? Let's face it. With all the demands of the workplace and all the details of a family it's only a matter of time before one bumps into the other. And many of us end up cheating our families when the commitments of both collide. In this practical book, Andy Stanley will help you... - establish priorities and boundaries to protect what you value most.
- learn the difference between saying your family is your priority and actually making them your priority.
- discover tested strategies for easing tensions at home and at work. Watch as this powerful book transforms your life from time-crunching craziness to life-changing success. Includes a four-week discussion guide Previously released as Choosing to Cheat
About the Author
Andy Stanley Communicator, author, and pastor, ANDY STANLEY founded Atlanta-based North Point Ministries in 1995. Today, NPM is comprised of six churches in the Atlanta area and a network 30 churches around the globe collectively serving nearly 70,000 people weekly. As host of Your Move with Andy Stanley, with over five million messages consumed each month through television and podcasts, and author of more than 20 books, including The New Rules for Love, Sex & Dating, Ask It, How to Be Rich, Deep & Wide, Visioneering, and Next Generation Leader, he is considered one of the most-influential pastors in America. Andy and his wife, Sandra, have three grown children and live near Atlanta. From the Hardcover edition.
Advertisement