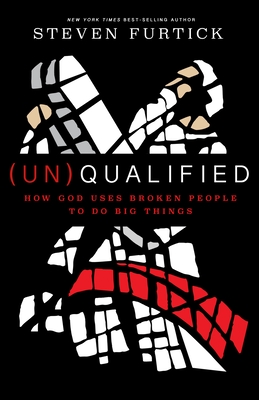 (Un)Qualified
How God Uses Broken People to Do Big Things
Hardcover

* Individual store prices may vary.
Other Editions of This Title:
Digital Audiobook (2/29/2016)
Paperback (7/10/2018)
Description
NATIONAL BESTSELLER • Don't let your contradictions keep you from your calling.
 
"This book will challenge you and encourage you into a life characterized by prayerful dependence and decisiveness—your life will never be the same."—Mark Batterson, author of The Circle Maker
 
Many of us are overwhelmed by the gap between our weaknesses and our dreams, between who we are and who God says we are meant to be. We feel unqualified to do God's work or to live out the possibilities we imagine. But God has a way of using our weaknesses for good. In fact, God loves unqualified people.
 
This is a book about understanding your identity in light of who God is. It's a book about coming to terms with the good, the bad, and the unmentionable in your life and learning to let God use you. It's about charging into the gap between your present circumstances and your future dreams and meeting God there. After all, God can't bless who you pretend to be. But he longs to bless who you really are: a flawed and broken person. Fortunately for us God is in the business of using broken people to do big things.
Praise For (Un)Qualified: How God Uses Broken People to Do Big Things…
ECPA bestseller
Publisher Weekly bestseller
USA Today bestseller
Wall Street Journal bestseller
Washington Post bestseller


"(Un)Qualified will take you from self-doubt and insecurity to a renewed trust in the God who called and equipped you for his will and purpose."
—Joyce Meyer, Bible teacher and New York Times best-selling author

"God doesn't call the qualified. He qualifies the called. This book will challenge you and encourage you into a life characterized by prayerful dependence and decisiveness—your life will never be the same."
—Mark Batterson, lead pastor of National Community Church, Washington, DC, and New York Times best-selling author of The Circle Maker

"Not only does Pastor Steven give voice to the hurt we so often stuff down deep when someone makes us feel as if we're not good enough, but he also points us back to the only One who can truly measure our potential. (Un)Qualified will strategically and biblically show you that even when we're overlooked by people, we are handpicked by God to play a part in his magnificent plan. This is such a needed message for today!"
—Lysa TerKeurst, president of Proverbs 31 Ministries and New York Times best-selling author

"Too often we embrace the fallacy that our successes hang solely on our qualifications. That we—and we alone—are the architects of our accomplishments and the framers of our future. I've been in ministry long enough to realize that God delights in using the most unlikely candidates to accomplish his purposes and that our abilities are always secondary to his calling. In (Un)Qualified Pastor Steven Furtick shows how we can partner and participate with God's calling for our lives, no matter who we are, where we are, or what we think we are lacking."
—Bishop T. D. Jakes, founder and senior pastor of The Potter's House, Dallas, and New York Times best-selling author

"Almost everyone I know battles feelings of insecurity, unworthiness, and self-doubt. I know I do. That's why Pastor Steven Furtick's life-changing book (Un)Qualified is a must-read. This power-packed book will build your faith, stir your dreams, and help you see yourself as God sees you. If you have ever battled with feeling unqualified, unprepared, or unsure of yourself, pick up this transformative book and be inspired, because our God uses broken people to do big things."
—Craig Groeschel, senior pastor of Life.Church and author of #Struggles: Following Jesus in a Selfie-Centered World

"My friend Steven Furtick is one of the most authentic, passionate people I have ever met. His love for God and for people is nothing short of inspiring. Pastor Steven's book (Un)Qualified is a must-read for every Jesus follower. In it he reveals how our tendency to fixate on our failures and major in our mistakes ultimately short-circuits our calling. But even more than that, he points us to a personal relationship with Jesus, the One who calls us, equips us, and carries us into our destiny."
—Judah Smith, lead pastor of The City Church, Seattle, and New York Times best-selling author of Jesus Is _____

"All humans strive to be stronger than we really are, better than we really are, and more than we really are. That's not bad…it just won't work. And as Steven shows, it leads us even farther away from who we truly are and who we want to become. This book will help you get more comfortable in your own skin, stop the striving, and see the truth of how God's power flows when we can be real."
—Dr. Henry Cloud, clinical psychologist, acclaimed leadership expert, and best-selling author

"In a world distracted and enamored by external qualifications, Pastor Steven's book is a refreshing reminder that God looks at the heart. When we respond to him in humility and faith, his power turns even our weaknesses into strengths. I am so excited about what God will do in your life as you read and experience the principles in this book! It will change the way you see yourself, talk about yourself, and even pray about yourself."
—Christine Caine, evangelist, author, and founder of The A21 Campaign

"In (Un)Qualified my friend Steven Furtick reminds us that God's qualification system is very different than ours. If you're anything like me, that's a welcome reminder and a big relief! In these inspiring pages Steven speaks bold, helpful truth in a humble and honest way. He encourages us to lose the labels we've placed on ourselves and live instead in the revelation of a God who can even turn our weaknesses into strengths. This brilliant book really resonated with me, and I know it will with you too."
—Matt Redman, worship leader and Grammy-winning songwriter

"To watch the ministry of Pastor Steven Furtick is to watch someone living in his grace zone. He is a remarkable communicator, a passionate church builder, and a lover of truth. I have no doubts that his latest offering, (Un)Qualified, will resonate with each and every person who has ever felt the pull of calling and the inadequacy of their own humanity. This book will encourage and strengthen you as you walk the journey."
—Brian Houston, founder and global senior pastor of Hillsong Church and author of the international best-selling Live, Love, Lead

"In a culture obsessed with perception and perfection, (Un)Qualified is a refreshing reminder that God uses even our weaknesses to our advantage. Steven Furtick's latest book is honest, practical, and thoroughly encouraging, and I highly recommend it. It will help you see yourself with more faith and courage than ever before."
—Andy Stanley, senior pastor, North Point Ministries, Atlanta
Multnomah, 9781601424594, 224pp.
Publication Date: March 1, 2016
About the Author
Steven Furtick is the New York Times best-selling author of Sun Stand Still, Greater, and Crash the Chatterbox. He is the founder and lead pastor of Elevation Church, which since its founding in 2006 has grown to more than twenty thousand attendees at twelve locations. He speaks at major conferences across the United States and around the world. Steven holds a master of divinity degree from Southern Baptist Theological Seminary. He and his wife, Holly, have three young children.
or
Not Currently Available for Direct Purchase