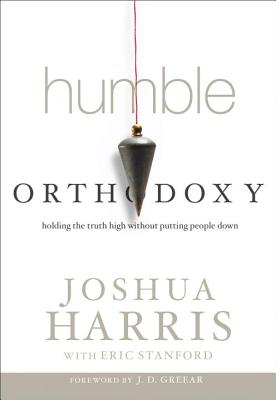 Humble Orthodoxy: Holding the Truth High Without Putting People Down (Hardcover)
Holding the Truth High Without Putting People Down
Multnomah Books, 9781601424754, 83pp.
Publication Date: April 2, 2013
* Individual store prices may vary.
or
Not Currently Available for Direct Purchase
Description
We don't get to choose between humility and orthodoxy. We need both. Orthodoxy, for the faithful, evokes what's cherished and beautiful and eternal. Yet in our day, orthodoxy is too often wielded like a weapon, used to bludgeon others with differing points of view. The word has become associated with behavior like argumentative, annoying, and arrogant. It's time for God's people to demonstrate both right thinking and right attitudes. We are called to embrace and defend biblical truth. But that truth includes repeated commands to love our neighbor, love our enemy, and be clothed in gentleness and respect. In Humble Orthodoxy, bestselling author Joshua Harris examines New Testament teachings about the calling of believers to a love-infused courage that ignores foolish controversies, patiently endures evil, and champions truth with generosity of spirit. Without this kind of humility, Harris asserts, we become like the Pharisees--right in our doctrine, but ultimately destroying the cause of truth with our pride.
About the Author
Joshua Harris is a bestselling author and the lead pastor at Covenant Life Church in Gaithersburg, Maryland, a suburb of Washington, DC. He and his wife, Shannon, have three children.
Praise For Humble Orthodoxy: Holding the Truth High Without Putting People Down…
Praise for Humble Orthodoxy

"I suppose the opposite of humble orthodoxy is arrogant orthodoxy—a rather ugly pairing of words since 'orthodoxy' takes us to King Jesus, who is 'gentle and humble in heart.' Defending orthodoxy, a perennially urgent responsibility, so easily degenerates into our defending ourselves and our opinions, a perennially deceptive form of idolatry. May this short book by Joshua Harris encourage many to love and articulate the truth with the same tears of compassion that Jesus shed over the city."
—D. A. Carson, research professor of New Testament at Trinity Evangelical Divinity School, Deerfield, IL, and author of The Intolerance of Tolerance

"When many years ago I first heard my good friend Josh Harris talk about the need for 'humble orthodoxy,' the phrase resonated with me immediately. Because, as Calvin said, the heart is an idol-making factory, we often take a good thing and make it an ultimate thing. We take something that is meant to help people, and we use it in hurtful ways. Sadly, many thinking Christians do this with doctrine. We argue for the glory of God in an unglorious manner. Josh knows this and is on a mission to change the tone of our theological conversations and put doctrine in its rightful place—as a servant to all but a master to none. He understands that if we dot all our doctrinal i's and cross all our doctrinal t's but have not love, we will be nothing more than 'a noisy gong or a clanging cymbal.' Thanks for this, Josh. A much-needed message for our time."
—Tullian Tchividjian, pastor of Coral Ridge Presbyterian Church, Fort Lauderdale, FL, and author of Jesus + Nothing = Everything

"When I think of the words 'humble orthodoxy,' I think immediately of Josh Harris. In this book you will find not merely an expert calling us to an abstract idea. You will find the heart of a man who demonstrates humility and conviction, mostly in ways that he doesn't see himself (or he wouldn't be qualified to write this book). Humble Orthodoxy will show you, with authenticity and vulnerability, what it means to realize that, left to ourselves, we are all arrogant heretics. But the Spirit of God can crucify our pride and our unfaithfulness. I heartily commend this good, practical book."
—Russell D. Moore, dean, Southern Baptist Theological Seminary, Louisville, KY, and author of Tempted and Tried: Temptation and the Triumph of Christ

"I love the message of Humble Orthodoxy. It further fueled the fire within me for a passionate commitment to truth that would put me on my knees instead of puffing me up. God is opposed to the proud but gives grace to the humble. I pray that God will use the message of this book to topple tall towers of pride that are so out of place in the church of Jesus Christ. May pure worship flow from humble orthodoxy!"
—Jason Meyer, pastor of preaching and vision, Bethlehem Baptist Church, Minneapolis, MN
 
Advertisement