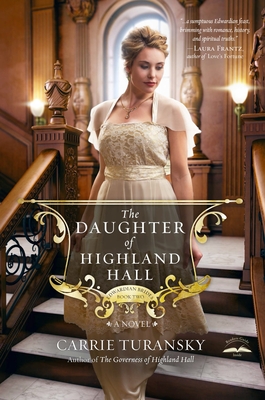 The Daughter of Highland Hall
A Novel (Edwardian Brides #2)
Paperback

* Individual store prices may vary.
Other Editions of This Title:
Digital Audiobook (10/6/2014)
MP3 CD (10/7/2014)
Compact Disc (10/7/2014)
Description
What if the title, the estate, the life of security and splendor… what if it isn't enough?

Strong-willed and beautiful, debutante Katherine Ramsey feels ready to take the London social season by storm, and she must. Her family estate, Highland Hall, has been passed to older male cousin Sir William Ramsey, and her only means of securing her future is to make a strong debut and find a proper husband. With her all-knowing and meddling aunt as a guide, Katherine is certain to attract suitors at the lavish gatherings, sparkling with Great Britain's elite.
 
When a shocking family scandal sidelines Katherine, forcing her out of the social spotlight, she keeps a low profile, volunteering with the poor in London's East End. Here Katherine feels free from her predictable future, and even more so as a friendship with medical student Jonathan Foster deepens and her faith in God grows. But when Katherine is courted anew by a man of wealth and position, dreams of the life she always thought she wanted surface again. Torn between tradition and the stirrings in her heart for a different path, she must decide whom she can trust and love—and if she will choose a life serving others over one where she is served.
Praise For The Daughter of Highland Hall: A Novel (Edwardian Brides #2)…
Praise for The Daughter of Highland Hall:

"In The Daughter of Highland Hall, Carrie Turansky sweeps readers back into the early nineteen hundreds, to the glamour of London society as well as the desperate world of those struggling to survive in London's East End. This beautiful story is filled with endearing characters who will steal your heart and surprises that will keep you engrossed until the very end."
—Melanie Dobson, award-winning author of Chateau of Secrets and The Courier of Caswell Hall 

"From London's East End to the royal presentation court, Carrie Turansky pulls back the curtain on Edwardian England in this sweeping new drama. The Daughter of Highland Hall will delight romance fans as well as those who like a peek behind the scenes into the lives of the elite and the people who serve them. A delight from the first page to the last."
—Carla Stewart, award-winning author of Stardust and The Hatmaker's Heart 

"Giving vivid entry into an Edwardian England setting, from genteel ballrooms to the gritty streets of London's East End, author Carrie Turansky has created a cast of multilayered, delightfully written characters I found engaging from beginning to end. The Daughter of Highland Hall is at its heart a story of personal courage, one sure to please fans of Turansky's The Governess of Highland Hall, as well as readers coming fresh to the series with this book."
—Lori Benton, author of Burning Sky and The Pursuit of Tamsen Littlejohn 

"From first line to last, The Daughter of Highland Hall is a sumptuous Edwardian feast, brimming with romance, history, and spiritual truths. Society and its glitter fade away as what truly matters comes into play. A delightful addition to the Edwardian Brides series!"
—Laura Frantz, author of Love's Fortune

"The Daughter of Highland Hall sweeps readers back to historic London where a cast of endearing characters work toward a heart-stirring cause. With excitement happening both upstairs and down, this charming romance is a beautiful addition to Carrie Turansky's Edwardian Brides series and a reminder that the greatest joys can arrive in the unlikeliest of ways." 
—Joanne Bischof, award-winning author of the Cadence of Grace series 

"A debutante. A medical missionary. Two disparate worlds. The Daughter of Highland Hall celebrates God's ability to open eyes and soften hearts."
—Mona Hodgson, author of nearly forty books for adults and children, including the Sinclair Sisters of Cripple Creek series, the Quilted Heart novellas, and Prairie Song

"The Daughter of Highland Hall is a compelling Edwardian love story that crosses class divides, where characters learn that snagging a titled and wealthy spouse is not the first concern of life. Carrie Turansky's meticulously researched and beautifully written novel lifts the heart, drawing the reader closer to Christ and reminding her of the possibilities of a faithdriven marriage. Characters that inspire readers to rekindle their romance with the Lord of life as well as with their own husband… How many books can do that?"
—Cathy Gohlke, Christy Award–winning author of Promise Me This and Band of Sisters

Multnomah, 9781601424983, 336pp.
Publication Date: October 7, 2014
About the Author
CARRIE TURANSKY is an award-winning author of more than a dozen novels and novellas. She has been the winner of the ACFW Carol Award, the Crystal Globe Award, and the International Digital Award, and a finalist for the Inspirational Readers Choice Award and the ACFW Carol Awards and Genesis Contest. She has written contemporary and historical romances, women's fiction, short stories, articles, and devotionals. She lives in New Jersey with her husband, Scott, and they have five adult children and four grandchildren.