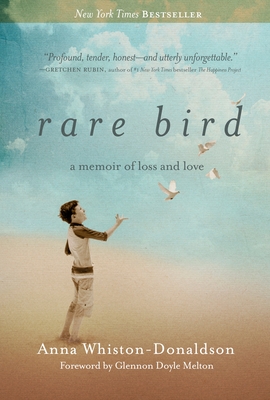 Rare Bird
A Memoir of Loss and Love
Paperback

* Individual store prices may vary.
Other Editions of This Title:
Digital Audiobook (12/1/2014)
Compact Disc (12/2/2014)
Hardcover (9/9/2014)
MP3 CD (12/2/2014)
Description
NEW YORK TIMES BESTSELLER • "A masterpiece of hope, love, and the resilience and ferocity of the human spirit."—Glennon Doyle Melton, from the foreword
 
"Profound, tender, honest—and utterly unforgettable."—Gretchen Rubin
 
"I wish I had nothing to say on the matter of loss, but I do. Because one day I encouraged my two kids to go out and play in the rain, and only one came home. . . ."
 
On an ordinary September day, twelve-year-old Jack is swept away in a freak neighborhood flood. His parents and younger sister are left to wrestle with awful questions: How could God let this happen? Can we ever be happy again?
 
In Rare Bird, Anna Whiston-Donaldson unfolds a mother's story of loss that leads, in time, to enduring hope. This is a book about facing impossible circumstances and desperately wishing you could turn back the clock. It is about discovering that you're braver than you think. It is about the flicker of hope and the realization that in times of heartbreak, God is closer than your own skin.
 
With this unforgettable account of a family's love and longing, Anna will draw you deeper into a divine goodness that keeps us—beyond all earthly circumstances—safe.
Praise For Rare Bird: A Memoir of Loss and Love…
"Profound, tender, honest—and utterly unforgettable."
— Gretchen Rubin, author of #1 New York Times bestseller, The Happiness Project

"Will touch every reader who picks it up."
–The Washingtonian

"In this powerful debut memoir, blogger Whiston-Donaldson tells the tragic story—of the death of her 12-year-old son Jack. The author is an emotionally insightful guide to the territory of grief. She notes the relationship of grief and shame, the comforts and sorrows of sex, and the hideous fights between bereaved parents. From its disarming opening sentence ("I thought the first book I'd write would be about painting furniture"), the book avoids sentimentality. The book is well paced—the reader knows from the start that the author's child is dead, but doesn't know precisely how he dies for some chapters—and is underpinned by a steady drumbeat of faith, as Whiston-Donaldson negotiates a new relationship with God after Jack's death. She feels deeply loved by God, "almost as if I'm wrapped in a soft, cotton batting," but she is also "disappointed and hurt... and the only broken body I can picture right now is Jack's." Whiston-Donaldson's compelling account belongs on the shelf next to Richard Lischer's Stations of the Heart."
—Publishers Weekly

"In her beautiful, clear-eyed prose Anna brings to life complex miracles: that the anchor of being strong is tied to feelings of unbearable weakness; that the ache of grief is often accompanied by glittering beauty; and that all we do not understand is more important to making sense of life than what we know. Her story, as well as Jack's story, is gorgeous, bold and true, and no one will be unchanged in reading it."
— Stacy Morrison, Editor in Chief, BlogHer; author of Falling Apart in One Piece

"This is not a book; it is a kaleidoscope. With every turn of the page, a new discovery is made that forever alters your view of pain, joy, heartache, time, hope, and healing. As I journeyed through Anna's divinely written prose, I found myself unable to stand by as a passive recipient of her message. I needed to act. Because of Anna and Jack, I talked with my child about heaven. I walked around the pool's edge to sit beside a grieving woman. I looked into the darkest places of my soul and for the first time, I did not look away. If you yearn to stop hiding from that which prevents you from truly living, step into the kaleidoscope that is Rare Bird. Turn the page—wake up, stand up, comfort, love, and live. Turn the page—let your eyes be opened to the light that exists in whatever darkness you face."
— Rachel Macy Stafford, New York Times best-selling author of Hands Free Mama

"A masterpiece of hope, love, and the resilience and ferocity of the human spirit."
— From the foreword by Glennon Doyle Melton, Momastery.com; author of Carry On, Warrior
 
"Rare Bird is not just another well-written story of love, loss, and the aftermath of death, but it is a story that clearly shows the constant presence and grace of a loving God. It gives assurance and comfort to those whose hearts are grieving, and hope to those who are afraid."
— Mary C. Neal, MD, New York Times best-selling author of To Heaven and Back
Convergent Books, 9781601425201, 240pp.
Publication Date: September 8, 2015
About the Author
Anna Whiston-Donaldson is a popular blogger at An Inch of Gray. A graduate of James Madison University and Wake Forest University, she taught high school English for six years before becoming a full-time mom and writer. She lives with her husband, Tim, and daughter, Margaret, in suburban Washington, DC.
or
Not Currently Available for Direct Purchase