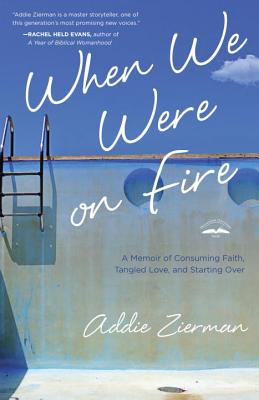 When We Were on Fire (Paperback)
A Memoir of Consuming Faith, Tangled Love, and Starting Over
Convergent Books, 9781601425454, 256pp.
Publication Date: October 15, 2013
Other Editions of This Title:
Digital Audiobook (3/14/2016)
CD-Audio (4/22/2016)
CD-Audio (4/24/2016)
* Individual store prices may vary.
Description
In the strange, us-versus-them Christian subculture of the 1990s, a person's faith was measured by how many WWJD bracelets she wore and whether he had kissed dating goodbye.
 
Evangelical poster child Addie Zierman wore three bracelets asking what Jesus would do. She also led two Bible studies and listened exclusively to Christian music. She was on fire for God and unaware that the flame was dwindling—until it burned out.
 
Addie chronicles her journey through church culture and first love, and her entrance—unprepared and angry—into marriage. When she drops out of church and very nearly her marriage as well, it is on a sea of tequila and depression. She isn't sure if she'll ever go back.
 
When We Were on Fire is a funny, heartbreaking story of untangling oneself from what is expected to arrive at faith that is not bound by tradition or current church fashion. Addie looks for what lasts when nothing else seems worth keeping. It's a story for doubters, cynics, and anyone who has felt alone in church.
About the Author
Addie Zierman is a writer, blogger and recovering Jesus freak. She studied creative nonfiction at Hamline University and received her MFA there in 2010. Addie blogs regularly at www.AddieZierman.com where she's working to redefine her faith one cliché at a time. She lives in Minneapolis with her husband, Andrew, and their two young sons.
Praise For When We Were on Fire: A Memoir of Consuming Faith, Tangled Love, and Starting Over…
Praise for When We Were on Fire

"With its luminous prose, Zierman's memoir reads like a novel, threaded with imperfect faith, doubt, deep searching, love and friendship and loss and depression…A book to savor to the very last page." –Publisher's Weekly (starred review)

"Fire provides light and warmth, or it can bring pain and destruction. Addie tells us a story in which her fiery faith sparked both outcomes and how she's worked to contain those flames. She walks the reader through this process with such grace, humor, and utter transparency that I couldn't help but see my own faith journey in hers. A refreshing, hopeful book from an expert storyteller."
—Jason Boyett, author of O Me of Little Faith

"Addie Zierman's unflinching candor and tender vulnerability make When We Were on Fire a must-read memoir. I ached for the wholesome, eager young girl seeking to serve God with all her heart, and wept for her—for all of us—who have experienced that particular keening heartbreak of being consumed by zeal. Addie walks through fire and still comes through shining with hope."
—Elizabeth Esther, author of Girl at the End of the World

"Addie Zierman is a poet with a lion's heart. When We Were on Fire is a memoir of such sophisticated and witty grace, it reads as the laughing prayer of a vagabond saint. Zierman's words take root in you, grow slowly, and push outward into a ring of endless light. Would that in my own days of fire, youth groups, and See You at the Pole rallies, I had been given this book with the single word: 'Hope.'"
—Preston Yancey, author of SeePrestonBlog.com

"Addie speaks for an evangelical generation who came of age in the American teen ghetto of youth group short-term mission trips and longings for revival, contemporary Christian music, and WWJD. Her journey through the disillusionments and then her rebellion against the false boundary-markers and empty language of an "on fire" faith culminate in her ongoing journey of hope and redemption. There is a wise sadness to her words, a depth that disarms. Addie is a beautiful writer, but she's also bold and honest as she tends the wounds of consumer evangelicalism on her old self, and then bravely gathers up all these disparate pieces of the painful and lovely obsessive faith of her past with new grace and gentle strength to move forward."
—Sarah Bessey, author of Jesus Feminist

"For all of us who found our way while steeped in evangelical culture, Addie has written us a love letter. Hilarious and heartfelt, passionate and poetic, her take on growing up evangelical reveals a classic coming-of-age story with an evangelical twist. Through clean and messy faith, confusion, love lost and gained, she reflects deeply on each experience with enough humility and humor to keep you turning pages through this easy and beautiful read. You will love When We Were on Fire from beginning to end, as did I."
—Grace Biskie, author of Converge Bible Studies: Kingdom Building, contributing author of Talking Taboo: American Christian Women Get Frank About Faith, and writer for DeeperStory.com and Prodigal & Prism magazine

"Reading When We Were on Fire was like reading my own story. It's an insightful, unflinching look at growing up evangelical. Addie recounts her misplaced zeal and resulting crisis of faith with humor and poignancy…ultimately discovering that a relationship with God is less about following Christian culture norms and more about following Him."
—Kristen Howerton, blogger at Rage Against the Minivan, and psychology professor at Vanguard University
"It's rare that a storyteller comes along with the ability to address important issues of life and faith with strength and profound openness. Addie Zierman is that kind of storyteller, and she does just that with her debut book When We Were on Fire. With a keen grasp on the intricacies and absurdities of Christian subculture, Addie bravely tells her story of a real, honest, and vulnerable faith that will resonate with readers of all ages. When We Were on Fire is a true pleasure to read."
—Nish Weiseth, author of Speak: How Your Story Can Change the World, and editor-in-chief at DeeperStory.com

"Addie Zierman is a master storyteller whose sharp wit is matched only by her disarming sincerity. When We Were on Fire introduces her as one of this generation's most promising new voices. Prepare to laugh out loud and nod along as this book delights, challenges, tickles, and inspires. For those of us working to reconcile the faith of our youth with the faith of our adulthood, it's such a joy to have a friend like Addie along for the journey."
—Rachel Held Evans, author of Evolving in Monkey Town and A Year of Biblical Womanhood

"The best kind of memoir is so deeply personal that it tells a universal story. In Addie's memoir you will find funny, messy, cringe-worthy, and beautiful moments that cut close to home—those experiences that we would like to relegate to youth but in truth lurk not far beneath the surface of every phase of life. If you are weary of sanitized and teetotaling stories, and are hungry for honest and redemptive stories, then this is your story."
—Adam S. McHugh, author of Introverts in the Church