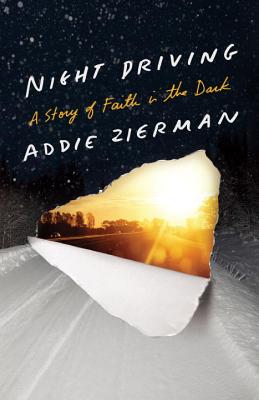 Night Driving (Paperback)
A Story of Faith in the Dark
Convergent Books, 9781601425478, 240pp.
Publication Date: March 15, 2016
Other Editions of This Title:
Digital Audiobook (3/14/2016)
CD-Audio (3/15/2016)
* Individual store prices may vary.
Description
How do you know God is real?
 
In the emotionally-charged, fire-filled faith in which Addie Zierman grew up, the answer to this question was simple: Because you've FELT him.
 
Now, at age 30, she feels nothing. Just the darkness pressing in. Just the winter cold. Just a buzzing silence where God's voice used to be.
 
So she loads her two small children into the minivan one February afternoon and heads south in one last-ditch effort to find the Light.
 
In her second memoir, Night Driving, Addie Zierman powerfully explores the gap between our sunny, faith fictions and a God who often seems hidden and silent.
 
Against the backdrop of rushing Interstates, strangers' hospitality, gas station coffee, and screaming children, Addie stumbles toward a faith that makes room for doubt, disappointment, and darkness…and learns that sometimes you have to run away to find your way home.
About the Author
Addie Zierman is a writer, blogger and speaker. She holds an MFA from Hamline University, and her first book, When We Were on Fire, was named one of Publisher's Weekly's Top 5 Religious Books of 2013. Addie lives in Minnesota with her husband and two sons and blogs regularly at addizierman.com.
Praise For Night Driving: A Story of Faith in the Dark…
"Zierman's trip down South and back into the light, filled with refreshing, life-affirming moments, will satisfy readers looking for a partner in spiritual strife."
—Publishers Weekly

"Zierman beautifully captures the longing and loneliness of trying to discover a new way to relate to a God who feels silent compared to the one of her ardent adolescence. Her current life of home, motherhood, and quiet reflection is a far cry from the one of rallies and concerts she left behind a lifetime ago. Will she find Him again on the massive road trip she undertakes with her young sons? Night Driving is for all of us who have found ourselves searching amidst the darkness of life for the loving light of the One who never changes."
— Anna Whiston-Donaldson, bestselling author of Rare Bird

"Addie Zierman is earnest and likable. She invites you into her story in order to better understand your own."
— Margaret Feinberg, author of Fight Back With Joy

Addie Zierman describes the danger and vulnerability of our most challenging seasons of faith as "the hospitable, layered silence of God." We believers are often afraid to admit to our own journeys of doubt, fear, or boredom. But Addie invites us into her darkness, and in doing so, welcomes us into a holy place, where we learn "to be folded close to the heart of God."
— Micha Boyett, Found: A Story of Questions, Grace, and Everyday Prayer

 "Addie's cross-country drive mirrors the pilgrimage we all must eventually take, covering the distance between the optimism of young faith and the unexpected darkness that often follows. If you are looking for a book to offer sure answers or clear steps, there's nothing for you here. Instead, what you'll find in these pages is one woman's willingness to share the particularities of her own struggle and, in turn, a voice leading the way for a generation of believers to accept both the shadows and the light of a deepening faith."
— Emily P. Freeman, author of Simply Tuesday

Addie Zierman is a magical storyteller, a writer whose prose is rich and wise and full of good thoughts that stay with you. Like Elizabeth Gilbert or Barbara Brown Taylor, in Night Driving: A Story of Faith in the Dark Zierman uses the power of her story to beautifully navigate familiar themes like faith, emotions, emptiness, and fear.
— Jessica N. Turner, author of The Fringe Hours: Making Time for You
or
Not Currently Available for Direct Purchase