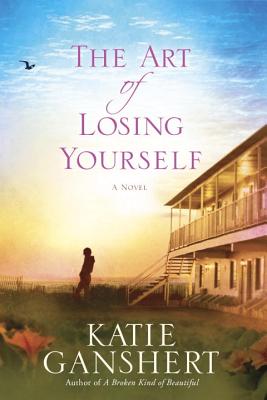 The Art of Losing Yourself
A Novel
Paperback

* Individual store prices may vary.
Other Editions of This Title:
Library Binding, Large Print (6/1/2015)
Description
Just like in my dream, I was drowning and nobody even noticed.
 

 
Every morning, Carmen Hart pastes on her made-for-TV smile and broadcasts the weather. She's the Florida panhandle's favorite meteorologist, married to everyone's favorite high school football coach. They're the perfect-looking couple, live in a nice house, and attend church on Sundays. From the outside, she's a woman who has it all together.  But on the inside, Carmen Hart struggles with doubt. She wonders if she made a mistake when she married her husband. She wonders if God is as powerful as she once believed. Sometimes she wonders if He exists at all. After years of secret losses and empty arms, she's not so sure anymore.
 
Until Carmen's sister—seventeen year old runaway, Gracie Fisher—steps in and changes everything. Gracie is caught squatting at a boarded-up motel that belongs to Carmen's aunt, and their mother is off on another one of her benders, which means Carmen has no other option but to take Gracie in. Is it possible for God to use a broken teenager and an abandoned motel to bring a woman's faith and marriage back to life? Can two half-sisters make each other whole?    
 
— Carol Award: Contemporary Fiction Winner
Praise For The Art of Losing Yourself: A Novel…
"Once again Ganshert holds us spellbound in a beautiful story of endurance and hope—offering no easy answers but the irresistible light of Christ to guide us. And what characters! Real, heartbroken, warm and seeking—within them we meet our friends, our family, ourselves. I thoroughly enjoyed this and, as always, eagerly await her next."
—Katherine Reay, author of Lizzy & Jane and Dear Mr. Knightley

"The Art of Losing Yourself  highlights Katie Ganshert's vivid prose as it brims with reality that will challenge and change you with every turn of the page. Ganshert is not afraid to write raw, to wrestle with the things that test our faith and—if we are willing—will draw us closer to God."
—Beth K. Vogt, author of Somebody Like You, one of Publisher's Weekly's Best Books of 2014
 
"Katie Ganshert's poignant novel hits deep emotional chords as the characters battle to a place of healing through a haze of pain. As someone who has experienced the deep pain of miscarriage, I could so easily relate to Carmen's journey. Carmen's story emphasizes what I learned: the pain and broken relationships can be healed. While plumbing deep waters, this is a story of resounding hope and discovery. I highly recommend it!"
—Cara Putman, award-winning author of Shadowed by Grace and Where Treetops Glisten

"The Art of Losing Yourself will have readers lost in its pages for hours, journeying along with two sisters in a rich, emotionally-charged tale of second chances, restoration, and finding hope—and love—when it seems perpetually out of sight."
—Betsy St. Amant, author of All's Fair in Love & Cupcakes

"Author Katie Ganshert will sweep you into another world in The Art of Losing Yourself.  I loved this book! The journey Katie's characters take is raw, beautiful, and honest, and the prose is lovely."
—Cindy Woodsmall, author of A Love Undone

"In The Art of Losing Yourself, Katie Ganshert has woven a sensitive story of hope and healing for our modern world. The empathy with which Ganshert explores the complexity of the human heart was so authentic and the depth of emotion so real, I was moved to tears more than once. Sisters, daughters, and mothers alike will find themselves moved by this book."
—Kristy Cambron, author of The Butterfly and the Violin and A Sparrow in Terezin

"Sitting down with a Katie Ganshert novel is like talking with a trusted friend. Something to look forward to, knowing the conversation won't disappoint and you'll be the better for it at the end. The Art of Losing Yourself is a poignant tale of estrangement, loss and grief, and the joy that comes in discovering you are indeed loved. In her classic tell-it-like-is style, Ganshert's complex characters step off the page and invite you in. Their journeys are difficult, but relatable, and we're sucked along for the ride, rooting for them the whole way through. And when the last page is turned, we are left with a smile and the contented sigh that comes at the conclusion of every wonderful read." 
—Catherine West, award-winning author of Yesterday's Tomorrow

"Wounded, heart-tugging characters. Beautiful prose. An emotional journey that holds the reader captive. Katie Ganshert has such a way of tapping into those raw, vulnerable places with her characters, and The Art of Losing Yourself is no exception. I love the thread of hope and unabashed honesty weaving through this story of loss and letting go."
—Melissa Tagg, author of From the Start

"With a keen attention to detail and a unique, prosaic voice, Katie Ganshert has woven a poignant and powerful story in The Art of Losing Yourself. Universal themes, charged, realistic emotions and characters readers will easily relate to make this story a standout."
—Courtney Walsh, author of the New York Times e-book bestseller A Sweethaven Summer and Paper Hearts

"The Art of Losing Yourself took my breath away with its ability to portray the complex facets of human relationships in such a realistic, yet tender way. Ganshert's writing creates a prism of perspectives into the lives of characters as deeply flawed as they are endearing. Carmen and Gracie's stories made me laugh, made me cry, and made me think—and that's my definition of a perfect novel."
—Deborah Raney, author of The Face of the Earth and the Chicory Inn Novels series
WaterBrook, 9781601425928, 320pp.
Publication Date: April 21, 2015
About the Author
KATIE GANSHERT is the award-winning author of several novels and works of short fiction, including the Christy Award-winning books A Broken Kind of Beautiful and Life After, and The Art of Losing Yourself. Katie lives in eastern Iowa with her family.
or
Not Currently Available for Direct Purchase