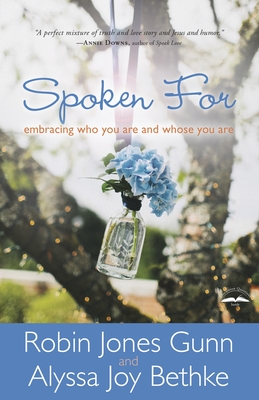 Spoken for: Embracing Who You Are and Whose You Are (Paperback)
Embracing Who You Are and Whose You Are
Multnomah Books, 9781601425973, 180pp.
Publication Date: April 15, 2014
Description
Say Yes to the Love Story of Your Life
A great romance was set in motion before you were born. A relentless Lover is pursuing you, and He has made His intentions clear. He wants you to be His forever. How will you respond to the One who longs for you to be His with your whole heart?
In Spoken For, Robin Jones Gunn and Alyssa Joy Bethke speak to your heart about what it means for you to belong to Christ, who you are because of His love, and how that affects the way you live. Drawing on biblical promises and their personal experiences, these two friends share what it's like to live out God's unfolding love story.
You are not up for grabs. You are spoken for.
Includes questions for group discussion and personal reflection.
About the Author
Robin Jones Gunn, best-selling author of the much-loved Christy Miller Series and co-author of Praying for Your Future Husband, has had more than 4.5 million copies of her books sold worldwide. Her frequent speaking engagements have taken her around the globe. Robin and her husband live in Hawaii and have a grown son and daughter.Twenty-six-year-old Alyssa Joy Bethke is a popular blogger and a newlywed. She serves with her husband--speaker, author, and spoken word artist Jefferson Bethke--as they travel the world sharing God's lavish grace. Alyssa lives in the Pacific Northwest with Jeff and their yellow lab, Aslan, and enjoys reading, hiking, paddleboarding, and, of course, coffee.
Praise For Spoken for: Embracing Who You Are and Whose You Are…
Praise for Spoken For

"Spoken For is the kind of book every Christian teenage girl wants to read: a perfect mixture of truth and love story and Jesus and humor. Robin and Alyssa have practically written the handbook for every young woman looking to understand how God feels about them."
—Annie Downs, author of Speak Love and Perfectly Unique

"Spoken For is filled with life-changing truths that will help you discover, strengthen, or reclaim your true identity. This book will teach you how to embrace the person God has created you to be while dispelling the lies that keep you captive. A must-read for every young woman who longs to know her true value, beauty, and purpose."
—Allie Marie Smith, founder of Wonderfully Made and author of Becoming Who You Are in Christ

"I highly recommend this relevant and essential book to any young woman trying to understand romantic relationships, navigating her way through the dating world, or even considering marriage. Robin and Alyssa are candid, thoughtful, and wise as they share personal stories and universal truths. This would be a great tool for mothers and daughters, book clubs, and youth groups. I'll be recommending it to my young-adult readers."
—Melody Carlson, award-winning author of the series Diary of a Teenage Girl and TrueColors

"Alyssa and Robin have written a book that is so tender and true, full of encouragement for all of us as we try to understand the love of the Savior. You will walk away from this book changed for the better and celebrating the fact that you are truly loved by the One who knows you best, the One who created you with a plan and a purpose."
—Melanie Shankle, New York Times best-selling author of Sparkly Green Earrings

"What makes Spoken For unique is the authors' ability to internalize and understand that we are in the midst of a divine love story! Alyssa and Robin casually and eloquently remind us not only of who we are but whose we are and that we are wanted, loved, and spoken for."
—Bianca Olthoff, speaker, teacher, and chief storyteller for the anti–human trafficking organization The A21 Campaign

"In Spoken For, Robin's and Alyssa's gentle honesty and personal stories made me feel as if we were out having coffee together and talking about our love for the Lord. This book is a perfect reminder of how great his love is for us and how sweetly he cares for us."
—Erynn Mangum, author of Paige Torn

"Anytime two unique voices come together with a unified message, there is power in it. Robin and Alyssa have different perspectives and life stages, but both have experienced God's relentless love and now want to give it away. Spoken For will help you remember your infinite worth because of Jesus Christ and what potential abounds if you will only embrace it."
—Jennie Allen, founder of the IF:Gathering and author of Restless

Advertisement