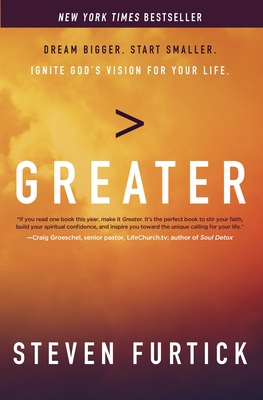 Greater: Dream Bigger. Start Smaller. Ignite God's Vision for Your Life. (Paperback)
Dream Bigger. Start Smaller. Ignite God's Vision for Your Life.
Multnomah Books, 9781601426550, 208pp.
Publication Date: May 6, 2014
Description
Most of us aren't in danger of ruining our lives.
We're in danger of wasting them.
Are you unsatisfied with the kind of Christian life you've settled for? If you are tired of cul-de-sac Christianity or self-help pseudo solutions, today is the day God's greater plan for your life begins in full force:
Greater than the labels you were given when you were young.
Greater than the cynicism that settles in as you get older.
Greater than the dreams you've dreamed for yourself.
Greater than even the greatest moment you've had thus far.
In Greater, Pastor Steven Furtick draws on the biblical story of Elisha to give you the confidence to know that nothing is impossible with God, the clarity to see the next step He's calling you to take, and the courage to do anything He tells you to do.
About the Author
Steven Furtick, author of the best-selling Sun Stand Still, is founder and lead pastor of Elevation Church, a multi-site church based in Charlotte, North Carolina. He holds a master of divinity degree from Southern Baptist Theological Seminary. He and his wife, Holly, have three children, Elijah, Graham, and Abbey.
Praise For Greater: Dream Bigger. Start Smaller. Ignite God's Vision for Your Life.…
Praise for Greater

"Writes Steven Furtick, 'Good enough leaves you stuck in stagnation. Grasping for greatness leads to endless frustration. But greater is a third way.' My advice? Don't waste another second to embrace the third way. In Greater, Steven shows you that God's vision for your life is ready to be ignited. Go ahead—strike the match!"
—Jentezen Franklin, senior pastor of Free Chapel, Gainesville, GA, and New York Times best-selling author of Fasting

"If you ever felt like you were meant for more yet have settled for less in life, then Steven Furtick's new book, Greater, is for you! Its proven biblical insights and practical applications will put you on your path to the greater life."
—Kerry Shook, senior pastor of Woodlands Church, Houston, TX, and coauthor of the New York Times best-selling One Month to Live and the national bestseller Love at Last Sight

"Most people crave more out of life and sense there is a greater reason for our existence. Pastor Steven's new book, Greater, is the perfect book to stir your faith, build your spiritual confidence, and inspire you toward the unique calling for your life. If you read only one book this year, make it Greater."
—Craig Groeschel, senior pastor of LifeChurch.tv, Oklahoma City, OK, and author of Soul Detox and Dare to Drop the Pose

"My friend Steven Furtick has an insatiable passion for the church to discover the fullness of life in Christ. In Sun Stand Still, Steven dared us to pray audacious prayers and believe God for the impossible. Now in Greater, he walks us through what it looks like to live out an audacious life—a life marked by nothing less than greatness God's way!"
—John Bevere, best-selling author of Relentless and The Bait of Satan

"Steven Furtick boldly pursues God with audacious faith like no one else I know. He is unapologetic about allowing God to accomplish greater things through him. This book will inspire you to do the same. To reach for greater. To believe for greater. To be greater."
—Stovall Weems, lead pastor of Celebration Church, Jacksonville, FL

"In every generation God empowers a few great leaders to speak his truth with boldness. Steven Furtick is one of those voices in our generation. In his new book Greater, you will learn how to embrace God's present plan for your greater calling and purpose."
—Christine Caine, director of Equip and Empower and founder of the A21 Campaign

"Greater is about walking in God's higher purpose for your life. Whether that's as a teacher, preacher, leader, parent, musician, artist, engineer, or entrepreneur, Steven Furtick will show you how to let go of your fears and embrace your greater purpose in God."
—Israel Houghton, Grammy Award–winning recording artist and worship leader of Lakewood Church, Houston, TX

"People today are bored, depressed, and confused because they have settled for 'good enough.' But 'good enough' is keeping us from living the life that God has called us to. In Greater, Steven Furtick embarks on a brilliant journey of transformation that every follower of Christ needs to take. This book delivers!"
—Perry Noble, senior pastor of NewSpring Church, Anderson, SC, and blogger on leadership, vision, and creativity

"Pastor Steven's powerful yet vulnerable teaching grabbed my heart, equipped my mind, and stirred my soul like no other book I've ever read. This is one I will return to again and again. For anyone who has ever dared to dream but doesn't know how to turn their dreams into reality, Greater is a must-read."
—Lysa TerKeurst, New York Times best-selling author of Made to Crave and president of Proverbs 31 Ministries

"Some of us wear ourselves out trying to achieve 'greatness.' Others of us miss our calling and settle for 'good enough.' In Greater, Steven Furtick shows us the surefooted path to the Greater life."
—Mark Batterson, lead pastor of National Community Church, Washington, DC, and author of Primal and In a Pit with a Lion on a Snowy Day

"Steven Furtick is living exactly what he's written about in this book—start small, dream big, and see what God will do! Our church has been massively blessed by the example of Pastor Steven, his family, and Elevation Church. Take it from the best. Don't underestimate what God can do with your small start. Get this book and be encouraged!"
—Dino Rizzo, lead pastor of Healing Place Church, Baton Rouge, LA, and author of Servolution

"Steven Furtick understands spiritual vision like few people I know. If you desire a life beyond your imagination, read this book! Greater will take you to a whole new level and invite you to experience the power of God every day."
—Jack Graham, senior pastor of Prestonwood Baptist Church, Dallas, TX, and author of Powering Up

"The distance between desire and doing is often intimidating because we don't know where to begin. But in Greater, Steven Furtick shows that God's 'greater' for our lives is as far away as our first step of obedience."
—Ed Young, senior pastor of Fellowship Church, Dallas, TX, and author of Outrageous, Contagious Joy

"Steven Furtick is in my head again with Greater. He's challenging me to be greater—and the good news is that all I have to do is think big and start small."
—Tim Sanders, author of Today We Are Rich and CEO of Net Minds 

"My friend Steven Furtick calls us to a faith-filled life of trusting and believing God for greater lives than the ones we are living now. It's not about us, though. It's about God's greater glory in and through our lives. If you are ready for a life-altering experience with Jesus Christ, pick up a copy of Greater."
—James MacDonald, senior pastor of Harvest Bible Chapel, Chicago, IL, and author of Always True and 10 Choices 
Advertisement