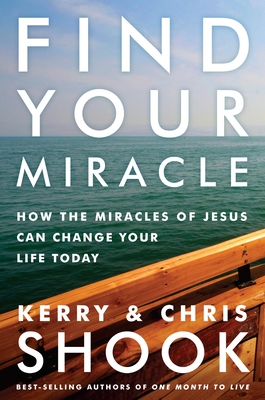 Find Your Miracle (Hardcover)
How the Miracles of Jesus Can Change Your Life Today
WaterBrook, 9781601427236, 240pp.
Publication Date: October 4, 2016
* Individual store prices may vary.
Description
The Miracles You Need for the Problems You Face

Healing the blind. Walking on water. Calming the storm. Feeding thousands with a few loaves and fish. Every miracle Jesus performed was for a purpose. There was provision for that specific moment in time. But what if each miracle was also embedded with the promise of future provision…for you?
 
In Find Your Miracle, New York Times best-selling authors Kerry and Chris Shook take a fresh look at nine of Jesus's most incredible times of healing and supernatural intervention.  The Shooks unpack these moments in modern language to usher you into the pain, desperation, breakthrough, and miracle of each encounter. Plus they reveal a "miracle map" that connects that moment long ago to our needs today for revelation, transformation, and restoration.

Discover the Miracle You've Been Looking For

Find Your Miracle is an exploration of nine miracles of Jesus, each filled with meaning, insight, and discovery for all who desperately need a miracle of their own.

Weaving together the biblical narrative with contemporary real-life application, Kerry and Chris Shook arrange these New Testament miracles under four overarching descriptions of Jesus the Miracle Worker: the Healer, the Provider, the Storm Chaser, and the Life Giver.

Rather than running from our overwhelming situations, the Shooks encourage us to remain steady, fully trusting that Jesus stands ready to guide us to the miracle we most need, and possibly least expect.
About the Author
Kerry Shook and his wife Chris Shook, are The New York Times bestselling authors of One Month to Live: 30 Days to a No-Regrets Life and Be the Message. They founded Woodlands Church in 1993, and it has since grown to be one of the largest churches in America. Kerry and Chris have been featured on NBC, ABC, PBS, Fox News, and USA Today; and they have a television show that goes to more than 200 countries. The recent establishment of Woodlands Seminary came out of their heart to train the next generation to make a local and global impact. Kerry and Chris live in The Woodlands, Texas.
Praise For Find Your Miracle: How the Miracles of Jesus Can Change Your Life Today…
"Kerry and Chris Shook present an amazing view on miracles and how we experience them today. In showing us fresh ways to look at Scripture, they encourage us that the miracles Christ did while on earth have relevance for us today. Reading this book will inspire you with a new sense of faith!"
—Matthew Barnett, CEO of The Dream Center, Los Angeles, CA

"As Chris and Kerry unpack the miracles of Jesus, they show us that miracles are not the focus. They are just the road signs pointing to God—to a real and personal relationship with Him."
—Mark Batterson, lead pastor of National Community Church, Washington, DC, and New York Times best-selling author of The Circle Maker

"Let's face it. At times we all need a miracle. Whether you are overwhelmed, feeling alone, or afraid, God is able to meet your needs. Every single one of them. Kerry and Chris Shook have written a powerful book based on Jesus's intervention in the lives of people in need of a miracle. I encourage you to apply the principles in Find Your Miracle and watch God impact your life like never before!"
—Dr. Jack Graham, pastor of Prestonwood Baptist Church, Dallas, TX, and author of Angels

"Many of us feel lonely, overwhelmed, and afraid and long for relief. At some point everyone needs a miracle. In their powerful new book Find Your Miracle, Kerry and Chris Shook show us how the miracles of Jesus can grow our faith, strengthen our resolve, and deepen our relationship with the Miracle Maker."
—Craig Groeschel, pastor of Life.Church, Oklahoma City, and author of #Struggles: Following Jesus in a Selfie-Centered World

"Wow! Kerry and Chris Shook have blessed us again with a fantastic biblical feast in Find Your Miracle. I loved the depth of studying many of Jesus's miracles without losing the practical application of how my life is impacted every day by God's supernatural provision. This book reminds us that God turns our messes into messages, our pain into purpose, and our greatest barriers into bridges of healing and ministry. I encourage you to take this wonderful journey through the miracles of Jesus and be prepared to experience your own blessing as you search for the miracles God has for you."
—Alan Robertson, star of A&E's Duck Dynasty and coauthor of A New Season and The Duck Commander Devotional for Couples

"God is still in the miracle business! Let the long-ago miraculous acts of Jesus guide you into understanding how God can intervene in your life today. Whether you're overwhelmed, discouraged, hurting, or afraid, my friends Kerry and Chris Shook will draw you a map to your miracle."
—Lee Strobel, best-selling author of The Case for Christ and The Case for Grace

"God is personal and present today. Chris and Kerry Shook unpack the miracles of Jesus in Find Your Miracle and remind us of this earth-shattering, faith-building, miracle-expecting truth that makes all the difference in our lives right now."
—Roma Downey, producer and actress

"With great clarity and insight, the Shooks show us that experiencing the miracles of God requires more participation on our part than what we may initially expect. Read with caution—this book will push you past your comfort zone as you're delivered to the other side of your doubts."
—Steven Furtick, pastor of Elevation Church, Charlotte, NC, and New York Times best-selling author of (Un)Qualified
or
Not Currently Available for Direct Purchase