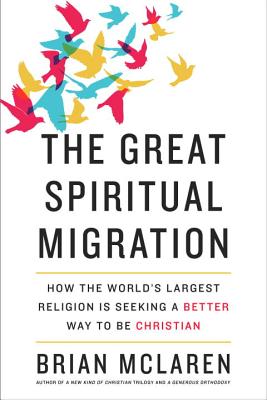 The Great Spiritual Migration
How the World's Largest Religion Is Seeking a Better Way to Be Christian
Hardcover

* Individual store prices may vary.
Other Editions of This Title:
Paperback (9/12/2017)
Description
The Christian story, from Genesis until now, is fundamentally about people on the move—outgrowing old, broken religious systems and embracing new, more redemptive ways of life.
 
It's time to move again.
 
Brian McLaren, a leading voice in contemporary religion, argues that— notwithstanding the dire headlines about the demise of faith and drop in church attendance—Christian faith is not dying. Rather, it is embarking on a once-in-an-era spiritual shift. For millions, the journey has already begun. 
 
Drawing from his work as global activist, pastor, and public theologian, McLaren challenges readers to stop worrying, waiting, and indulging in nostalgia, and instead, to embrace the powerful new understandings that are reshaping the church. In The Great Spiritual Migration, he explores three profound shifts that define the change:
 
∙ Spiritually, growing numbers of Christians are moving away from defining themselves by lists of beliefs and toward a way of life defined by love
∙ Theologically, believers are increasingly rejecting the image of God as a violent Supreme Being and embracing the image of God as the renewing Spirit at work in our world for the common good
∙ Missionally, the faithful are identifying less with organized religion and more with organizing religion—spiritual activists dedicated to healing the planet, building peace, overcoming poverty and injustice, and collaborating with other faiths to ensure a better future for all of us
 
With his trademark brilliance and compassion, McLaren invites readers to seize the moment and set out on the most significant spiritual pilgrimage of our time: to help Christianity become more Christian.
Praise For The Great Spiritual Migration: How the World's Largest Religion Is Seeking a Better Way to Be Christian…
"Provocative and powerful."
—Nicholas Kristof, the New York Times
 
"This is Brian McLaren's finest book: a beautiful exploration of a hopeful, joyful, mystical, and just faith that invites Christians to move from fear to love.  On every page, he calls out to longing readers, 'Don't give up. A better world, a better way of belief is possible.' And he is right."
—Diana Butler Bass, author of Grounded: Finding God in the World—A Spiritual Revolution
 
"Anything written by Brian McLaren is always filled with insight, courage, and creative theology, refining the meaning of orthodoxy in our time.  Read this and surely enjoy it, for it will assure you that you are not crazy making in what you are seeing and suffering today."
—Richard Rohr, author of Falling Upward, founder of the Center for Action and Contemplation
 
"With the wisdom of a seasoned teacher and the compassion of a dear friend, Brian McLaren once again pastors the reader through some of the most pressing and important questions of our time.  The Great Spiritual Migration puts into words what so many people of faith are experiencing, and in a way that is at once accessible and profound, challenging and deeply comforting. You will reach the final page feeling inspired, understood, and a little less alone. McLaren's writing has long been a gift to the Church, and to the world. This may be his most important work yet."
—Rachel Held Evans, author of Searching for Sunday
 
"A refreshingly honest, totally committed, enriching and profound analysis of the Spiritual Moment that is changing all our lives. If you are concerned—and at the same time excited—by what is going in churches these days, read this book. Both hope and a path to it await you here."
—Joan Chittister, author of Between the Dark and the Daylight
 
"I have such respect for Brian McLaren; I would follow him anywhere, and so should you. Follow him out of fruitless dualities and false polarities. Follow him on a restless journey, a quest, a spiritual migration from an apathetic facade of a faith to a joyfully questioning, boundary crossing, ethical spectacle of a faith. This well-conceived, intelligent, warm, truthful book is our guide to a space where a life of faith is defined by love-in-action."
—Dr. Jacqui Lewis, senior minister, Middle Collegiate Church 
 
 
"McLaren continues to have his finger on the pulse of a new kind of Christianity that challenges familiar and limiting structures of faith. A prophetic and winsome invitation for all the join the work of the Spirit in spiritual, theological, and missional transformation."
—Peter Enns, author of The Sin of Certainty: Why God Desires Our Trust More Than Our "Correct" Beliefs
 
"Brian McLaren is a leading thinker in articulating the disenchantment so many of us feel regarding Americanized Christianity and the hope we have that there is, as McLaren says, "a better way to be Christian." The Great Spiritual Migration calls us, not to wander aimlessly in the wilderness of pseudo-spirituality, but to follow Jesus forward into the promised land of a more authentic Christian faith. I applaud this important and encouraging book!"
—Brian Zahnd, author of A Farewell To Mars and Water To Wine
Convergent Books, 9781601427915, 288pp.
Publication Date: September 20, 2016
About the Author
Brian D. McLaren is a Christian thinker, author, and activist. A former pastor with a background in literature, McLaren is the author of over a dozen books, an Auburn Senior Fellow, and board chair of Convergence (convergenceus.org).
or
Not Currently Available for Direct Purchase