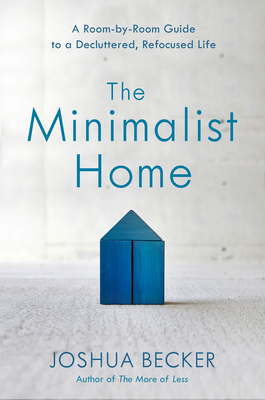 The Minimalist Home
A Room-by-Room Guide to a Decluttered, Refocused Life
Hardcover

* Individual store prices may vary.
Other Editions of This Title:
Digital Audiobook (12/17/2018)
Library Binding, Large Print (1/16/2019)
Description
USA TODAY BESTSELLER • A popular minimalist blogger and author of The More of Less shows you how to methodically turn your home into a place of peace, contentment, and purposeful living.

One of today's most influential minimalist advocates takes us on a decluttering tour of our own houses and apartments, showing us how to decide what to get rid of and what to keep. He both offers practical guidelines for simplifying our lifestyle at home and addresses underlying issues that contribute to over-accumulation in the first place. The purpose is not just to create a more inviting living space. It's also to turn our life's HQ—our home—into a launching pad for a more fulfilling and productive life in the world.
Praise For The Minimalist Home: A Room-by-Room Guide to a Decluttered, Refocused Life…
ECPA Bestseller

"If you are already tapped into the minimalist movement or want to get more in-depth knowledge and know-how, this is the book for you! Joshua Becker takes you through all the benefits and strategies for creating your minimalist home, and he includes practical step-by-step tactics and checklists to create and maintain your spaces. Most importantly, you will gain a complete understanding of the value that minimalism brings to you and your family."
—Ellen R. Delap, certified professional organizer and productivity consultant; president of the National Association of Productivity and Organizing Professionals

"Joshua Becker's idea of minimalism is to create a comfortable, warm, inviting home that reflects what is most important to your family. The Minimalist Home is a great guide to help you define your vision and set your goals for how you want to live in your space. Joshua goes further than most authors to address pets, hobby areas, and outdoor spaces around the home. Throughout this book, he provides practical advice on how to keep family members engaged in the minimizing process now and in the future."
—Jacki Hollywood Brown, editor of Unclutterer.com

"Joshua Becker is the best coach I know of when it comes to teaching the skill of decluttering. Not only will his calm, clear voice guide you through the challenging task of getting rid of belongings, but he will also make you feel fabulous for doing so. He does not shy away from tough topics such as downsizing homes, renting versus buying, and adjusting one's lifestyle to fit a space. His enthusiasm is addictive; it's impossible to read this book without tackling your own home—and then you won't want to stop, because as your rooms open up, so will your entire world."
—Katherine Martinko, senior writer and editor of TreeHugger.com

"Joshua provides great tips on decluttering every room and inspires readers to think deeply about what really makes a house a home."
—Francine Jay, author of The Joy of Less

"This isn't just a book about decluttering. It's a book about remembering what the purpose of every room is and making your home feel like the most important place on earth. Less clutter, more heart."
—Cait Flanders, author of The Year of Less

"With his signature optimistic and encouraging writing style, Joshua provides a valuable, practical road map for those who are hoping to declutter their homes and take control of their lives."
—Katie Wells, founder of WellnessMama.com

"The result of reading and implementing The Minimalist Home together as a family is a household filled with fewer distractions and better conversations. Having fewer barriers between us, our family is now sharing more stories and laughs. We've learned that we don't need more things from the store; we need more of each other in our lives. And this book is the guide that got us there."
—Marc and Angel Chernoff, New York Times best-selling authors of Getting Back to Happy

"It's a bit ironic that I'm recommending you acquire one more thing to explore living more fully by owning less: Joshua Becker's book The Minimalist Home. But I am. It's exactly what we all need—a slim read that's packed with all-new information, authentic stories, and tried-and-true solutions to life's relentless clutter. Joshua speaks candidly (and personally!) about the challenge of expanding our lives by minimizing our stuff. The Minimalist Home earns every inch. Can you say that about everything else in your home?"
—Mary Kay Buysse, executive director of National Association of Senior Move Managers

"Since 2005 I have been following in Brazil the growth of people's interest in trying to live in a simpler, more practical, and more organized manner. Joshua's clear, instructive book innovatively shows how minimalism can transform the way we live in our homes, increasing our quality of life. I recommend it as essential reading for everyone."
—José Luiz Cunha, entrepreneur; founder of OZ! Organize Your Life; and creator of Personal Organizer Brazil, the largest event in Latin America for professional organizers

"This book breaks down the decluttering process into easy-to-follow steps. An essential read for any aspiring minimalist!"
—Emma Loewe, home editor at MindBodyGreen.com
WaterBrook, 9781601427991, 256pp.
Publication Date: December 18, 2018
About the Author
JOSHUA BECKER is the founder and editor of Becoming Minimalist, a website dedicated to inspiring others to find more life by owning less. The website welcomes over 1,000,000 readers each month and has inspired millions around the world to consider the practical benefits of owning fewer possessions and given them the practical help to get started. He is the best-selling (Wall Street Journal, USA Today, Publisher's Weekly, Amazon, Audible) author of The More of Less: Finding the Life You Want Under Everything You Own. Joshua's writing has led to speaking opportunities all across America and internationally. He is a contributing writer to Forbes and has made media appearances in the Wall Street Journal, Huffington Post Live, and the CBS Evening News. Joshua and his young family live in Peoria, AZ. In many ways, they are just your typical middle-class, suburban family--minus the dog and relentless pursuit of physical possessions.