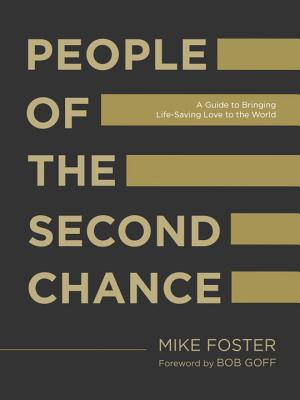 People of the Second Chance (Hardcover)
A Guide to Bringing Life-Saving Love to the World
WaterBrook, 9781601428547, 240pp.
Publication Date: September 20, 2016
Other Editions of This Title:
Compact Disc (9/20/2016)
* Individual store prices may vary.
Description
A powerful message of hope for anyone burdened by regret and everyone who longs for a fresh start.

What if I told you that you and your not-so-perfect story have been invited to experience the joy of second chance living. Your critics and nay-sayers and those negative voices in your head have defined who you are and stolen your hopeful future for far too long!

The insecurity, shame, and judgment—That stops today.

This simple guide will show you how your imperfect life matters in ways you never thought possible. It will help you see your scars, flaws, and failures as unfair advantages and gifts that you can bring to the world.  Foster's examination of hope is one part challenge, two parts encouragement. He forces the reader to ask the following questions: How did I lose it? How do I get? How do I give it? Each question is broken down into core concepts that are essential to a life devoted to the power of second chances: awareness, discovery, ownership, forgiveness, acceptance and freedom.

Packed full of unfiltered honesty and simple next steps, this manifesto for prodigals, imperfectionists, and hopesters will help you discover beauty in the brokenness.
About the Author
Mike Foster is the Chief Chance Officer at People of the Second Chance. He has dedicated his life to helping people relaunch their lives with a sense of hope and purpose. He has been featured on Good Morning America, The 700 Club, and in The New York Times.
Praise For People of the Second Chance: A Guide to Bringing Life-Saving Love to the World…
"In my life, both personally and professionally, Mike Foster is a tremendous source of inspiration and encouragement. You'll find both of those things in this book. You'll also find humility, wisdom, and compassion. And as always when it comes to Mike and his work, you will be met with grace."
—Jamie Tworkowski, founder of To Write Love on Her Arms and New York Times bestselling author of If You Feel Too Much

"Mike's words are soaked in a special blend of grace, compassion, and clarity for living in God's love. Absolutely beautiful."
—Mark Batterson, New York Times bestselling author and pastor of National Community Church in Washington, DC

"Mike Foster has created a movement, and this is the official playbook. People of the Second Chance provides all of us an extra dose of hope and inspiration. Join the team, put on your jersey, get on the field, and be part of the second-chance community!"
—Brad Lomenick, former president of Catalyst and author of The Catalyst Leader and H3 Leadership

"Mike is your friend, whether you've ever met him or not. You can feel it on every page of this book, and Mike wrote it for you because he wants good for his friends. This book is a beautiful, healing thing, and I am so glad it exists."
—Annie F. Downs, best-selling author of Looking for Lovely and Let's All Be Brave

"What if we partied as much as we preached? This question from People of the Second Chance hit me like a ton of bricks, but it wasn't the only knee-buckling moment in the book. A lot of people write about grace, but Mike Foster celebrates it, creating a raucous call to a party everyone is invited to. If you've ever wondered if second chances are real and available, read this book."
—Jon Acuff, author of Do Over and Stuff Christians Like

"Mike Foster is a rare and necessary antenna for goodness and grace. Through this wonderful book that brims with vulnerability and wisdom, we can begin to wholly realize the concept of unconditional love. In People of the Second Chance, Foster so beautifully shares the greatest news anyone can hear: you are beloved."
—Ryan O'Neal, Sleeping At Last

"Five stars! This is fierce and compassionate truth telling at its finest. People of the Second Chance is an incredible road map for fully experiencing the grace of God in a whole new way."
—Jud Wilhite, senior pastor of Central Christian Church in Las Vegas

"Each page of this book was designed to remind us of our incredible stories. It's the voice of a man I trust whispering over our shoulders that our weirdness is wonderful and our quirks are among our most endearing qualities."
—Bob Goff, Chief Balloon Inflator and New York Times bestselling author of Love Does

"Mike is this generation's Brennan Manning. His passion for helping us live as God's beloved is awe inspiring, and this manifesto for second-chance living is exactly what our world needs right now."
—Gabe Lyons, author of Good Faith and founder of Q

"I loved this profound work of grace and the simple reminder that life can be cherished in the midst of our brokenness. People of the Second Chance will cause hearts to leap for joy as we imagine a world where our imperfect stories truly matter."
—Rebekah Lyons, author of Freefall to Fly

"I don't read many books but I always read Mike's. This one leads us back to the core of who we are and how we should live. Filled with vulnerability, hope, and practical help, People of the Second Chance is a must-read!"
—Jeremy Cowart, founder of The Purpose Hotel, See University, and Help-Portrait

"The day I hit the lowest point in my life I made one phone call. It was to Mike. That phone call convinced me that I would rise again. And reading this book was like having that phone call all over again. This book is a manual for anybody who wants to rise again. I'm so grateful for Mike and this message."
—Carlos Whittaker, a speaker and the author of Moment Maker

"People of the Second Chance is a profound and inspiring book that will stir your heart toward belief, bravery, and the life God dreams for you."
—Scott Harrison, founder of charity: water
or
Not Currently Available for Direct Purchase