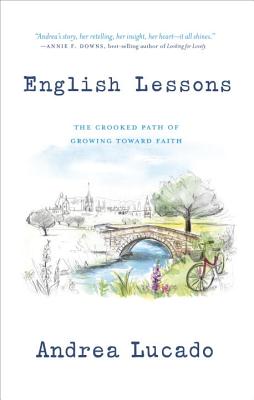 English Lessons (Hardcover)
The Crooked Path of Growing Toward Faith
WaterBrook, 9781601428950, 240pp.
Publication Date: May 2, 2017
Other Editions of This Title:
Digital Audiobook (5/1/2017)
Compact Disc (5/2/2017)
* Individual store prices may vary.
Description
The Questions Would Teach Her More Than the Answers
 
It wasn't long after arriving in Oxford for graduate school that twenty-two-year-old Andrea Lucado – preacher's daughter from Texas - faced not only culture shock, a severe lack of coffee, but also some unexpected hard questions: Who am I? Who is God? Why do I believe what I believe?
 
"So many nights in Oxford, I felt like the details of my faiths were getting fuzzier. Nights turned restless with the questions and the thoughts. I questioned God's existence and the doubt, it was getting into my bones…."
 
In this engaging memoir, Andrea speaks to all of us who wrestle with faith, doubt, and spiritual identity. Join Andrea as she navigates the Thames River, the Oxford Atheist Society, romance in ancient pubs—and a new perspective on who God is. As Andrea learned, sometimes it takes letting go of old ideas to discover lasting truth.
 

About the Author
Andrea Lucado is a freelance writer based in Austin, Texas. The daughter of best-selling author and pastor Max Lucado, she inherited an obsession with words and their arrangement. She has a masters degree in English literature from Oxford-Brookes University and contributes regularly to online and print publications such as Relevant magazine and She Reads Truth. When she is not conducting interviews or writing stories, you can find her laughing with friends at a coffee shop or running in the Texas hill country.
Praise For English Lessons: The Crooked Path of Growing Toward Faith…
"Luminous patience and insight lights these uncommonly thoughtful pages. Andrea Lucado is a winsome, wise, and unwaveringly honest companion for the wonderer and wanderer, and the lines on these pages offer a tangible lifeline to every God-wrestler. These are pages that are hard to put down, that you will want to return to and reread. Andrea not only offers a genuine way to love the questions themselves, she offers an authentic way to love the Answer Himself."
—Ann Voskamp, author of the New York Times bestsellers The Broken Way and One Thousand Gifts

"This book brought me right back to a younger self—a bookish pastor's daughter living abroad, making sense of her faith, of the world and her place in it. Andrea is a lovely writer, and this story will make you ache for the feelings and memories and experiences of your early twenties—both the wonderful ones and the challenging ones. And it will make you want to go to Oxford, of course."
—Shauna Niequist, New York Times best-selling author of Present Over Perfect and Bread & Wine

"To have a strong faith we can stand on, we all need to wrestle well with hard questions and come face-to-face with our gut-honest feelings. Andrea does this in such a tenderly beautiful way that will leave the deep parts of your heart feeling comforted and understood."
—Lysa TerKeurst, New York Times best-selling author and president of Proverbs 31 Ministries

"English Lessons is positively paradoxical—both mature and youthful, entertaining and challenging, full of light and full of depth. Written by a pastor's daughter, it is the perfect book for those trying to own a faith handed to them by someone else. Whether you're a spiritual seeker or a hardened skeptic, this book will both honor your doubts and open your heart to grace. A wonderful paradox, indeed!"
—Jonathan Merritt, contributing writer for The Atlantic and author of Jesus Is Better Than You Imagined

"In English Lessons we discover an honest voice exploring life and love, finding that it's okay and even common to not know where the journey will take you. Andrea Lucado's memoir is a story of love and friendship, saying goodbyes, and seeing yourself in a mirror to find out more of who you really are, perhaps for the first time. Her year in Oxford was a wide-open space for a life of grace."
—Scot McKnight, Julius R. Mantey Chair of New Testament, Northern Seminary

"English Lessons is one of those beautiful books that you can just fall into. Andrea's story, her retelling, her insight, her heart—it all shines. I love this book, I learned from it, and I cannot wait to read it again."
—Annie F. Downs, best-selling author of Looking for Lovely and Let's All Be Brave

"In this vivid and vulnerable memoir, Andrea Lucado allows readers to experience both the charms and the challenges of living in a foreign place. Anyone who has had their faith stretched to a near-breaking point will feel themselves walking with Andrea next to the River Thames, staying up late talking theology with a new friend, and facing the discomforts of a chilly English winter. Andrea's story gives readers permission to have faith like a child, questions like a teenager, and steady trust like an adult. If you want your own faith to grow and to grow up, this well-rendered story is for you."
—Katelyn Beaty, editor at large, Christianity Today, and author of A Woman's Place
or
Not Currently Available for Direct Purchase