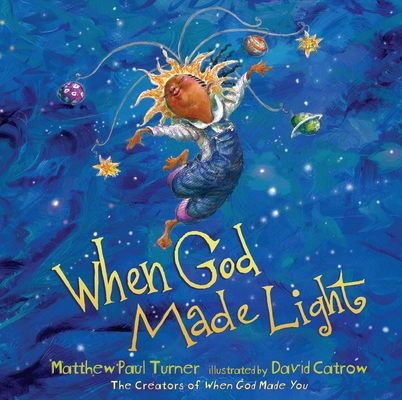 When God Made Light (Hardcover)
Convergent Books, 9781601429209, 48pp.
Publication Date: February 13, 2018
* Individual store prices may vary.
Description
From the author and illustrator of the best-selling When God Made You comes a new illuminating message about God's design affirming young readers.

'Let there be light!' that's what God said. And light began shining and then started to spread." Wild and creative illustrations from top children's illustrator David Catrow pair with Matthew Paul Turner's lyrical verse in this message of a God-made light that cuts through darkness to bring vision and hope to all young readers. This light radiates, chasing away the shadows, providing the wonder and fun of stargazing or firefly chasing. Most important, this light appears in each child--an inner God-given spark that grows and will be used to change the world.
About the Author
MATTHEW PAUL TURNER is the author of sixteen books, including When God Made You and Churched. He lives with his wife Jessica and their three children in Nashville, TN.

DAVID CATROW is an editorial cartoonist whose vibrant illustrations have appeared in more than seventy children's books, including several New York Times bestsellers, such as I Ain't Gonna Paint No More and I Like Myself. He makes his home in Ohio.
Praise For When God Made Light…
ECPA bestseller

"The book opens with two young black girls with hair in cornrows, a rambunctious mutt, and a playful cat engrossed in creative indoor play. The rhyming text seems to draw the girls outside as sunshine spills through their large window. "Dance in the grass. / Go climbing in trees. / Build castles with sand. / Face the wind; feel its breeze." Ebullient illustrations in Catrow's signature style depict the two girls and their pets as they frolic and explore in their own backyard and beyond, employing chiaroscuro with often dramatic effect. Throughout, both pictures and text revel in God's creation, light in particular and its glowing presence in the sun, moon, and stars as well as within the children themselves...A life-affirming exploration of the common grace of creation and appreciation of the miraculous in every day." -Kirkus Reviews

"This is a joyful riot of colors and enthusiastic children and pets playing and celebrating how amazing and wondrous our universe is. Filled with fanciful and bold illustrations, it makes me smile every time I read it. Your kids will, too!"
 -Doc Kirby, WTBF, Troy, AL