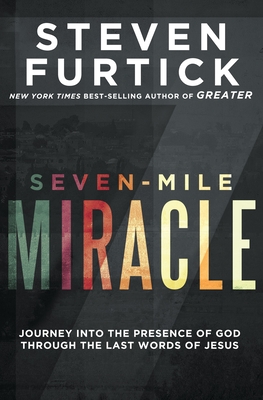 Seven-Mile Miracle (Paperback)
Journey into the Presence of God Through the Last Words of Jesus
Multnomah, 9781601429247, 192pp.
Publication Date: February 6, 2018
Other Editions of This Title:
Digital Audiobook (2/27/2017)
Mixed media product (2/5/2013)
Hardcover (2/28/2017)
* Individual store prices may vary.
Description
His Final Words Are Your New Beginning
 
It's Good Friday. The Son of God is giving up his life. What does he want to say to us in His final hours? What does He tell the people standing at the foot of the cross, to pass down to the ages? He speaks only seven short statements. Words of forgiveness, salvation, relationship, abandonment, distress, triumph, and reunion. Seven statements that mean everything.
 
In Seven-Mile Miracle, Pastor Steven Furtick shows us how Jesus's last words offer mile markers for our journey in relationship with God. It's a lifelong journey and it's not always easy. But Jesus is both our guide and our destination as we travel. 

Includes questions for reflection and a forty-day reading guide to Jesus's death and resurrection.

A Proven Path for Spiritual Growth
 
From time to time we all feel stuck in our relationship with God and frustrated by life's setbacks. Jesus faced what could have been the ultimate defeat on the cross. Yet he emerged triumphant through his relationship with his heavenly Father. And he showed us the way so that we could do the same.
 
In Seven-Mile Miracle, Steven Furtick explores how Jesus's seven last statements on the cross offer a proven spiritual growth path for us. You will experience the Easter message more personally than ever before as you engage the words of forgiveness, salvation, relationship, abandonment, distress, triumph, reunion.
 
After all, we are not simply believers—people who have put our faith in Jesus. We are not simply disciples—pupils who learn from him. We are called to be followers of Christ. This is your opportunity to follow Jesus through his death, and move forward in his resurrection power, starting now.
About the Author
STEVEN FURTICK is the New York Times best-selling author of Sun Stand Still, Greater, Crash the Chatterbox, and (Un)Qualified. He is also the founder and lead pastor of Elevation Church, based in Charlotte, North Carolina, which since its founding in 2006, has grown to multiple locations across several states. He preaches around the world and holds a Master of Divinity degree from Southern Baptist Theological Seminary. Steven and his wife, Holly, have three children.

Follow him on social media @StevenFurtick.
Praise For Seven-Mile Miracle: Journey into the Presence of God Through the Last Words of Jesus…
CBA bestseller
ECPA bestseller

"Furtick's writing is approachable and accessible, but also offers deep insight into Scriptural truths. Whether you're looking for a compelling Easter read or want to grow richer in your faith at any time, the Seven-Mile Miracle is a journey worth taking."
—BookPage

Praise for Other Titles by Steven Furtick

"Not only does Pastor Steven give voice to the hurt we so often stuff down deep when someone makes us feel as if we're not good enough, but he also points us back to the only One who can truly measure our potential."
—Lysa TerKeurst, president of Proverbs 31 Ministries and New York Times bestselling author

"My friend Steven Furtick is one of the most authentic, passionate people I have ever met. His love for God and for people is nothing short of inspiring. He reveals how our tendency to fixate on our failures and major in our mistakes ultimately short-circuits our calling. But even more than that, he points us to a personal relationship with Jesus, the One who calls us, equips us, and carries us into our destiny."
—Judah Smith, lead pastor of The City Church, Seattle, and New York Times bestselling author of Jesus Is _____

"In a world distracted and enamored by external qualifications, Pastor Steven is a refreshing reminder that God looks at the heart. When we respond to him in humility and faith, his power turns even our weaknesses into strengths."
—Christine Caine, evangelist, author, and founder of The A21 Campaign

"To watch the ministry of Pastor Steven Furtick is to watch someone living in his grace zone. He is a remarkable communicator, a passionate church builder, and a lover of truth."
—Brian Houston, founder and global senior pastor of Hillsong Church and author of the international bestselling Live, Love, Lead

"Pastor Steven writes books that help us overcoming the lies that hold us back. If you read his words prayerfully and take the truths to heart, God will help you win the battles in your mind and become the person He created you to be."
—Craig Groeschel, lead pastor, LifeChurch.tv, Edmond, OK

"Steven Furtick unearths, exposes, and refutes lies and half truths all of us are tempted to believe about ourselves. His direct writing style will keep you engaged. His insights will make you think. But most important, his words will free you to embrace the life God has called you to live."
—Andy Stanley, senior pastor, North Point Church, Alpharetta, GA

"Steven Furtick unlocks powerful stratagems for silencing the inner critic that entangles the believer in a quagmire of self-doubt, fear, and unbelief."
—T. D. Jakes, New York Times bestselling author and bishop of The Potter's House, Dallas, TX