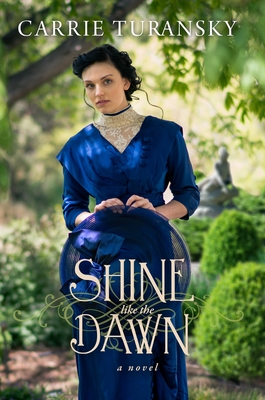 Shine Like the Dawn
A Novel
Paperback

* Individual store prices may vary.
Other Editions of This Title:
MP3 CD (2/21/2017)
Compact Disc (2/21/2017)
Library Binding, Large Print (4/1/2017)
MP3 CD (2/21/2017)
Compact Disc (2/21/2017)
Description
In a quiet corner of northern Edwardian England, Margaret Lounsbury diligently works in her grandmother's millinery shop, making hats and caring for her young sister. Several years earlier, a terrible event shattered  their idyllic family life and their future prospects. Maggie is resilient and will do what she must to protect her sister Violet. Still, the loss of her parents weighs heavily on her heart as she begins to wonder if what happened that day on the lake…might not have been an accident.
 
When wealthy inventor and industrialist William Harcourt dies, his son and Maggie's estranged childhood friend, Nathaniel, returns from his time in the Royal Navy and inherits his father's vast estate, Morningside Manor. He also assumes partial control of his father's engineering company and the duty of repaying an old debt to the Lounsbury family. But years of separation between Nate and Maggie have taken a toll, and Maggie struggles to trust her old friend.
 
Can Maggie let go of the resentment that keeps her from forgiving Nate—and reconciling with God? Will the search for the truth about her parents' death draw the two friends closer or leave them both with broken hearts?
Praise For Shine Like the Dawn: A Novel…
"Shine Like the Dawn is a shining gem of a story. Turansky creates characters that are vibrant along with a sweet romance that elicits a satisfying sigh. Intrigue, secrets, and dangerous conflicts make the plot riveting until the very end."
—Jody Hedlund, author of Luther and Katharina, ECPA Book of the Year

"Reading a Carrie Turansky novel is the next best thing to taking a trip to England, with the added luxury of stepping back in time. Shine Like the Dawn is an Edwardian gem, layering rich spiritual truths with love, loss, secrets, and forgiveness, always showcasing God's abundant restoration. This hope-infused story is as lovely as the cover!"
—Laura Frantz, author of A Moonbow Night

"From the first compelling page to the last heart-lifting moment, Shine Like the Dawn drew me in, made me smile then cry—all while keeping me on the edge of my seat. Turansky's latest English historical romance, rich in mystery and intrigue, brings to life warm and memorable characters nestled between a charming Edwardian village and its local grand estate. Uplifting and highly recommended."
—Cathy Gohlke, Christy–award winning author of Secrets She Kept and Saving Amelie

"With her trademark heart and attention to historical detail, Carrie Turansky paints a picture of loss, inner torment, and—ultimately—healing. Set against a backdrop of Edwardian England, Shine Like the Dawn is aptly named because it shows the illumination that floods the soul when forgiveness replaces bitterness and a hurting heart finds its way back to the Maker of Light. A moving, life-impacting, engrossing story."
—Kim Vogel Sawyer, best-selling author of Guide Me Home

"Enter a world of innovations, mysterious manor houses, sweet romances, and whispers of suspense, all wrapped within a novel that gives off Elizabeth Gaskell's North and South vibes. In typical sweeping style, Carrie Turansky takes us on a journey to another time and place with added intrigue to keep us wondering to the very end—a story worth adding to your reading list."
—Pepper D. Basham, award-winning author of the Penned in Time series and A Twist of Faith

"In this charming novel—filled with mystery, surprise, romance, and courage—Carrie Turansky skillfully transports us to Edwardian England. Readers will root for our heroine as she faces the shocking loss which dominates her life and reaches toward a future filled with faith, hope, and perhaps…love. Captivating."
—Sandra Byrd, author of A Lady in Disguise

"With a vivid setting in beautiful but tumultuous Edwardian England, Carrie Turansky masterfully tells a tale of family, love, trust, and betrayal. A charming story for every lover of historical romance!"
—Roseanna M. White, best-selling author of the Ladies of the Manor series

"Lovers of English drama set during any era will certainly enjoy Carrie Turansky's latest novel! With a mix of themes from both Downton Abbey and North and South, Shine Like the Dawn will intrigue and enthrall readers until the very last page!"
—Dawn Crandall, award-winning author of The Hesitant Heiress and The Cautious Maiden
Multnomah, 9781601429407, 352pp.
Publication Date: February 21, 2017
About the Author
CARRIE TURANSKY is an award-winning author of more than a dozen novels and novellas. She has been the winner of the ACFW Carol Award, the Crystal Globe Award, and the International Digital Award, and was a finalist for the Inspirational Readers Choice Award and the Maggie Award of Excellence. A prolific writer of contemporary and historical romance, women's fiction, short stories, articles, and devotionals, Carrie lives in central New Jersey with her husband Scott. They have five adult children and four grandchildren.
or
Not Currently Available for Direct Purchase