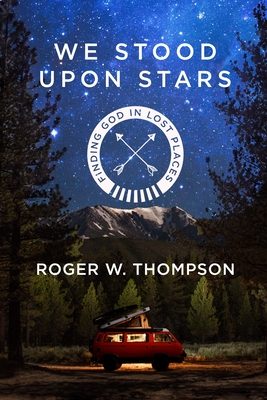 We Stood Upon Stars
Finding God in Lost Places
Paperback

* Individual store prices may vary.
Other Editions of This Title:
Digital Audiobook (5/1/2017)
CD-Audio (5/9/2017)
CD-Audio (5/2/2017)
Description
Get Lost. . . and Find What Really Matters
 
We are made for freedom and adventure, friendship and romance. Yet too much of life is spent unfulfilled at work, restless at home, and bored at church.  All the while knowing there is something more. You'll find some of life's best moments waiting for you over a campfire, on a river—even in that coffee shop or brewery you didn't know you'd discover along the way. It's time to begin the search.
 
In the literary spirit of well-worn tales about America's open road, this poetic, honest, often hilarious collection of essays shows how to embark on adventures that kindle spiritual reflection, personal growth, and deeper family connections.
 
From surfing California's coastlines, stargazing southwestern deserts, and fly-fishing in remote mountains of Montana, you'll be inspired to follow the author's footsteps and use the hand-drawn maps from each chapter to plan your own trips.  There you will hear God's voice – and it may help you find what you're searching for.
 
"We search mountaintops and valleys, deserts and oceans, hoping sunrises and long views through the canyons will help us discover who we are, or who we still want to be.  The language of our hearts reflects that of creation because in both are fingerprints of God."
—Roger W. Thompson
Praise For We Stood Upon Stars: Finding God in Lost Places…
"Combining humor, a sense of adventure, and a need to discover who he is, Thompson takes readers on an earnest journey as he recounts a number of trips exploring America's beauty. He finds insights into life in cherished memories and moments of clarity. Along the way he learns what it is to be a husband, a father, and a friend, often coming to moments of understanding as he appreciates nature." —Publishers Weekly

"This book is changing my life on a regular basis. It's so profound. I can't put it down!"
—Ryan Dobson, RebelParenting.org

"There is an overall 'welcome to my home' feeling about We Stood Upon Stars that makes this book a good choice for anyone who has or is experiencing stress–basically every living American adult. Those among us who enjoy exploring life, immersing in nature, abandoning the main highway in favor of a backroad and star gazing will find a delightful sense of wonder in We Stood Upon Stars and will grasp Thompson's point of view fairly quickly." 
—yoursexylibrarian

"Roger's writing reminds me of Steinbeck's—it brings light to life in the most beautiful and profound ways. After reading this book I want to love my wife, kids, and life more.  For that, I am deeply grateful for Roger and this book."
—Britt Merrick, pastor, hunter, surfboard shaper

"A poignant travelogue of generations past and present, searching for God in lost places. After reading the first page of We Stood Upon Stars, it's obvious Roger's love for adventure and desire to invite everyone else along! I was swept up in 'love like an ocean,' 'grief like a desert,' and 'peace like a river' that flowed through every chapter. From the waves of Ventura, CA to starlight in the desert, to the taco truck in Marfa, TX, I got lost in the stories of Roger and his family as they learned not only about the beauty of each destination, but the beauty of the journey it takes to get there."
—Leslie Jordan, All Sons & Daughters

"It's hard to know if Roger is an author or an artist. He paints these pages with words so vivid and picturesque that you can almost smell the Rocky Mountain air, feel the salty water of the ocean, or experience the tug of a wild trout on the end of a fly line. Roger is writing the powerful story every man, every father, and every adventurer dreams about living, but for Roger it's not a dream. It's his life. And like a wise teacher, he's showing us how it can be our life too."
—Brian Carpenter, founder of Refuge Foundation, Montana

"Roger Thompson takes us on his dirt roads, into his mountains, and deep into his spirit. Through his humor and humility, he will inspire you."
—Braden Jones, entrepreneur, world traveler, husband and father, co-founder of Intervals, Petunia Pickle Bottom, Sons of Trade

"There is no better story than one that truly becomes your own. As a guy who finds comfort in security, God is continually drawing me deeper into the unknown…and it's good for the soul. In this book, Roger invites us on the road less traveled. We Stood Upon Stars is a road map to the journey that every man hopes to experience for himself. Get ready to dive right into the heart of a man."
—Gary Humble, CEO of Grapevine Craft Brewery and blogger at HumbleTravelers.com

"We all search for something in our lives, though many of us are unable to express that. We Stood Upon Stars does so—prolifically with love, humor, and solace—'rediscovering a wild that never had been lost.' Beautifully written, must read."
—KynsLee Scott, steelhead and trout fly-fishing guide

"What strikes me most isn't the adventures found within this book, but Roger's transparent ability to share the condition of our human heart. Roger's honest reflections undoubtedly beg us to reflect on our own map and trajectory through life. From finding truth behind VW Vanagon maintenance, to the art of teaching his sons the beauty of fly-fishing, to subtleties of the Creator's whisper on the open road—Roger speaks to the father, husband, and friend who are crafting our own unique maps on this journey."
—RJ Hosking, fellow Vanagon owner, father of three littles, friend, @famwithvan

"We Stood Upon the Stars is an invitation to adventure…permission to explore—both the physical destinations found through travel and the inner places of the heart. Roger warms you up with intriguing (not to mention hilarious) stories, then delivers thought-provoking wisdom at just the right moment. As a mother to four adventure-seeking boys (and married to another one), I know men everywhere will connect with this book as it affirms their dreams, questions, and passions, and ultimately points them to the place where real purpose and meaning can be found."
—Monica Swanson, author and writer at monicaswanson.com

"We Stood Upon Stars makes you feel like you are sitting next to a campfire with a best friend, exchanging thoughts and memories of where you've traveled and where you hope to go."
—Kristi Spoon, owner/rancher, Spoon's Rock Creek Ranch

"I've always enjoyed seeing life through Roger's eyes, and now readers get to experience what I have through our friendship for so many years. We Stood Upon Stars draws me into beautiful locations, and when I'm not expecting it, Roger drops one of those lines on me that makes me think of something important for the rest of the day. Something eternal. This book is so good for my soul that I can't put it down!"
—Bryan Jennings, professional surfer and filmmaker; founder of Walking on Water

"We Stood Upon Stars is a journey through pristine country and a passion for the people we hold close. Roger puts us in the front seat of life's most epic road trip—inspiring us toward greater adventure, deeper family connections, faith, and fatherhood."
—Dave Harvey, professional fly-fishing guide

"In life and in fly-fishing, good guides put you in the right place at the right time. Roger is a true guide and connects us to something greater in this world.  I've been able to fish with Roger and his sons, and the same intentionality he has on the river with his boys is felt in every word of this book." 
—Justin Harding, professional fly-fishing guide, Utah Pro Fly Fishing

"The allure of racing Baja was much more than the need for speed; to me it was experiencing the presence of God only to be found when we leave our own creation and step fully into His. In We Stood Upon Stars, Roger captures the spiritual awakening that we get from God's creation."
—Johnny Campbell, 11-time Baja 1000 Champion
WaterBrook, 9781601429599, 240pp.
Publication Date: May 2, 2017
About the Author
ROGER W. THOMPSON is a successful entrepreneur, collaborator, adventurer, and writer. He's spent his career building innovative businesses and nonprofit organizations. In addition to creating the first mission tourism resort in Haiti with the Hands and Feet Project, he's produced surf films, built skate parks, and outfitted adventure trips. Alongside his wife, he travels, surfs, snowboards, and fly-fishes—and is teaching his two young sons to do the same.
or
Not Currently Available for Direct Purchase